Are you looking for great DIY gift ideas for father's day? Sometimes it's hard to find the right gift, so why not make something special just for dad. Below you will find 16 DIY ideas your family can use to create a nice gift for your father.
16 DIY Father's Day Gift Ideas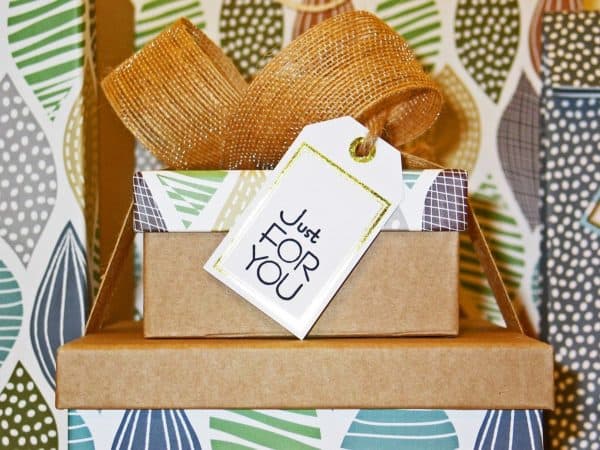 1. DIY Paper Bag Father's Day Book
Make this cute gift for dad out of paper lunch bags. You can find the directions on I heart Craft Things.
2. Candy Tackle Box
Gather up your dads favorite candies and make this cute tackle box as a gift. You can find the directions on Crafty Morning.
3. Baseball Glove Photo Pop-Up Father's Day Card
Make dad this cute baseball glove pop up card. Find the directions on Soccer Mom Blog.
4. Personalized Spatula
Make a personalized spatula just for dad. Find the directions on Skip To My Lou.
5. Daddy Ties
Your dad will love these creative diy ties. Find the instructions on Crafting Chicks.
6. Father's Day Medals
Award the best dad with some homemade medals for being such a great dad. Find the directions on And We Play.
7. Father's Day Trophy
Make this cute father's day Trophy. You can find the directions on Smart Class.
8. Father's Day Handprint Platter
Your dad will love this cute handprint platter. Find the directions on Crafty Momma in Me.
9. Handprint Keychain
Make dad this adorable handprint keychain. You can find the directions on Gray House Harbor.
10. Bake Dad A Special Cake or Cookies
Bake dad a special cake and decorate. Or you could bake dad his favorite cookies and find a nice container to put in and wrap it up.
11. Decorate a picture frame
Find a nice picture frame and decorate it. Then put a nice picture of you and your dad in it.
12. Design a Mug for dad
Find a nice mug and design it just for dad.
13. Decorate A T-shirt
Make dad the best t-shirt designed just by you. Here is an example from HGTV.
14. Create A Special Song Or Show Just For Dad
Have the kids prepare a special song or play just for dad.
15. Make A Gift Basket With His Favorite Things
Make a gift basket and fill it with all your dads favorite things.
16. Paint A Picture
Paint a nice picture for your dad and wrap it up.
Have fun making these gifts for your dad. Happy Father's Day!
Other Articles
34 Fun Indoor Kids Activities and Crafts
12 Fun Exercises You Can Do With Your Kids At Home