Are you looking for easy strawberry dessert recipes? I love strawberries and making recipes out of them. There are many different options of recipes you can make with strawberries. Below I have put together a list of some of the best strawberry desserts. I included different recipes for cakes, cupcakes, cookies, keto, and gluten-free.
What Can I Do With A Bunch Of Strawberries?
You can do so much with strawberries. With a bunch of strawberries, you can make many different types of recipes.
What Can Be Made From Strawberries
Make cakes, cupcakes, cookies, mousse, smoothies, milkshakes, bars, keto recipes, jam, pudding and so much more. That's what I like about strawberries you can make so many different recipes with them.
How Do I Freeze Fresh Strawberries?
The way I freeze my strawberries is to wash them and then place them on a baking sheet. Then I put them in the freezer. When they are frozen, I will put them in a plastic freezer bag or airtight container and place back in the freezer.
How Do You Defrost Strawberries Without Making Them Soggy?
If I don't have time to thaw them in the fridge then I will put them in a container. Then I will fill another larger bowl with cold water and set the container in the cold water and defrost that way.
How Do You Keep Strawberries From Getting Mushy?
Readers digest has a great idea you can read here. They soak them with vinegar and water.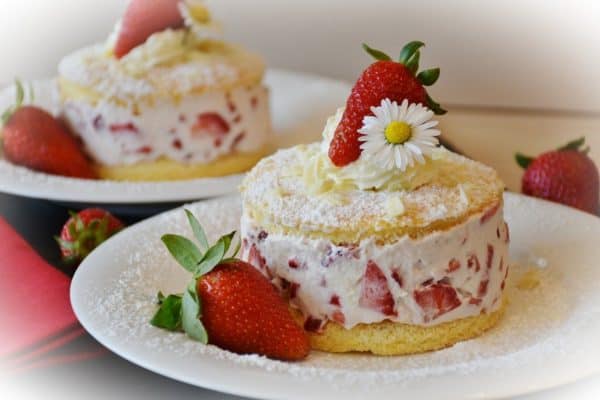 16 Easy Strawberry Dessert Recipes
1. Strawberry Layer Cake With Strawberry Buttercream Frosting
Get this recipe here from Family Around The Table.
2. Best Strawberry Cake
You can find this recipe on The Best Food Blog.
3. Strawberry Crumb Bars
Find this recipe on Flavor Mosaic.
4. Easy Fresh Strawberry Mousse
Get this recipe here from An Italian In My Kitchen.
5. Strawberry Cupcakes
Get this recipe from Celebrating Sweets.
6. Strawberry Bundt Cake
You can find this recipe on A Latte Food.
7. Keto Strawberry Cheesecake Cups
You can find this recipe on The Kellie Kitchen.
8. Keto Strawberry Muffins
Here is another keto recipe from Sweet As Honey.
9. Strawberry Lemon Blondies
Get this recipe on Me is Mommy.
10. Strawberry Smoothie
Find this recipe on Amanda's Cooking.
11. Cream Cheese Strawberry Cookies
Get this cookie recipe from Oh My goodness Chocolate Desserts.
12. Easy Fresh Strawberry Pie
Find this recipe on Maria's Kitchen.
13. 3 Ingredient Strawberry Cake
Get this 3 ingredient recipe from Eating on A Dime.
14. Gluten-Free Strawberry Cream Cheese Bars
Cheese cream cheese bars recipe from Fearless Dining.
15. Gluten-Free Strawberry Shortcake
Here is another gluten-free strawberry recipe found on Mama Knows Gluten Free.
16. Chocolate Covered Strawberry Brownies
Find this recipe on Simply Happy Foodie.
I hope you enjoyed these recipes. Let me know how they turned out.
Other Recipes
7 Best Chocolate Chip Cookie Recipes
7 Best Peanut Butter Cookie Recipes