Healthy Snacks Your Kids Will Love
Are you looking for healthy snacks your kids will love?
If your kids are anything like mine, they are always hungry. Keeping them full and coming up with snack ideas is like a full-time job.
Listed below are 23 healthy snack ideas.
1. Summer Fruit Salad
Here is a great summer fruit salad recipe. Loaded with peaches, mixed fruit, apples, blueberries, and strawberries. Topped off with a touch of honey. You can find it on Go Money Mom.
2. Pineapple Plum Spring Salad
This is an easy quick recipe for a delicious spring salad. This salad is loaded with pineapples, plums, shredded carrots, red peppers, shredded purple cabbage(also referred to as red cabbage) and raisins. Topped with shredded carrots, cheddar cheese, and Italian dressing.
You can find this recipe on Go Money Mom.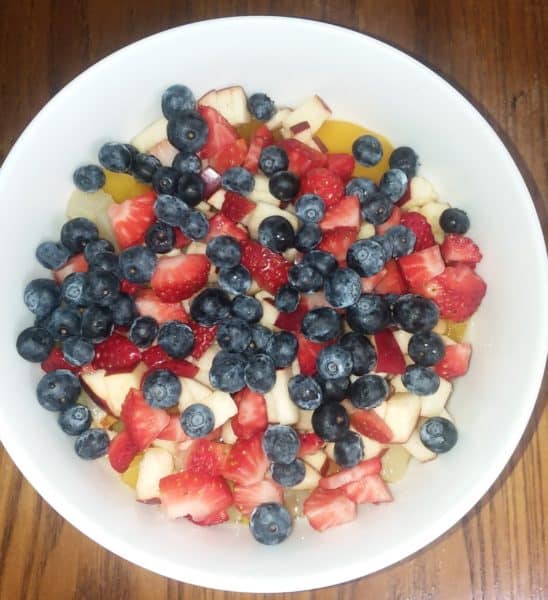 3. Pretzels
Are you looking for an easy way to make pretzels for the kids?
Check out Healthy Mini Soft Pretzels from Amy's Healthy Baking.
4. Good old peanut butter jelly sandwiches
You can never go wrong with good old peanut butter jelly sandwiches. If you want to get creative you defiantly want to check out this recipe for Gourmet Banana Peanut Butter Sandwich from The Picky Eater.
5. Homemade pizza
If you have time in your busy schedule this recipe is a great idea to make and have ready for the kids to eat when they get home. The recipe is made with healthy ingredients. You can find the recipe here from I Heart Nap Time.
6. Grilled cheese sandwiches
Here is a tasty grilled cheese recipe. The best grilled-cheese sandwich from Spend With Pennies.
7. Cucumber Slices
Instead of just cutting up the cucumbers into slices for the kids to eat you can make a nice salad. You can find a good recipe for easy creamy cucumber salad from Foodlets.
8. Carrots
Carrots are a healthy snack idea for the kids. To make them more likely for your kids to eat you can make this healthy carrot muffins recipe from Cookie+Kate.
9. Grapes
Grapes are a good snack for the kids to grab when they get home. I put some in small containers and set it on the table for them to have when they get home.
10. Smoothies( Banana, Mango or Strawberry)
Here is a great tasty recipe for a Mango Smoothie from Downshiftology.
11. Cut up protein(chicken or turkey)
You can always cut up chicken and turkey and make roll-ups. You can find a great recipe for Chicken Salad Roll-ups from Betty Crocker.
12. Hard-boiled eggs
Hard-boiled eggs are another good snack option for the kids.
13. Oatmeal
My kids love oatmeal so this is one of their favorite snacks to have. In this recipe, you will find creative topping ideas for oatmeal. Check out this Oatmeal Recipe from Feel Good Foodie.
14. Mixed nuts
Mixed nuts are always a good snack idea if your kids don't have allergies.
15. Raisins
The same goes for raisins and you can always mix the mixed nuts with the raisins and make trail mix snacks for the kids.
16. Greek Yogurt
Greek yogurt is another good snack option you can find a recipe on how to make yogurt from Daring Gourmet.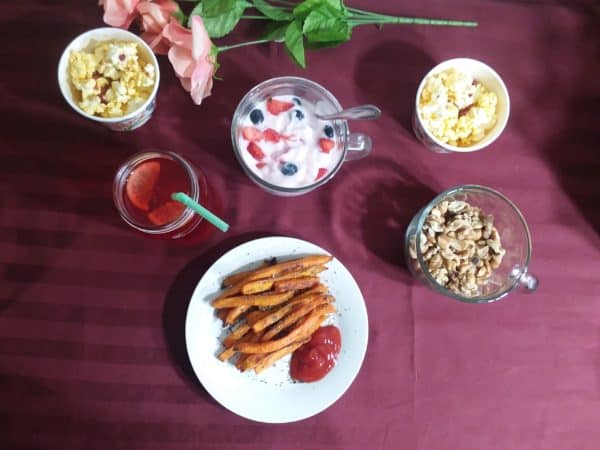 17. Watermelon
I love watermelon and so do my kids. When I was researching, I found this recipe for watermelon salsa. I never thought of that before. You can check out Watermelon Salsa from Sweet Green.
18. Cantaloupe
I am not a fan of cantaloupe or either is my kids but they like it in a smoothie. Maybe your kids will too. Here is a recipe for strawberry cantaloupe smoothie from Not Enough Cinnamon.
19. Avocado on crackers
Avocado on crackers is a nice snack idea. Here is a recipe for Sun-Dried Tomato+ Avocado Crackers from Luci's Morsels.
20. Tuna on crackers
Here is a recipe for Tuna Salad with crackers from Super Healthy Kids.
21. Tuna sandwiches
You can always make tuna sandwiches for the kids here is a recipe for Tuna Salad Sandwich from Simply Recipes.
22. Popcorn
Popcorn can be a great snack idea the kids will love. You can get creative with different flavors. Here is a recipe for Flavored Popcorn from Taste Of Home.
23. Sweet Potato Fries
These fries are easy to make, gluten-free, vegetarian and vegan.
You can find the recipe for sweet potato fries here from Gimme Some Oven.