Are you looking for fun indoor activities and crafts to keep the kids busy? I have made a list of over 30 fun games, activities and craft ideas.
Games
1. Board Games
Time to bring out your kids favorite board game or make your own. My kids love to play Sorry.
2. Play I Spy
Play a game of I spy.
3. Hide and Seek
See who can find the best place to hide.
4. Dance Party
Play your kids favorite tunes and have a dance party. This will also give them plenty of exercise.
5. Musical Chairs
This is a fun game to play. Have the kids walk around the chairs when the music stops everyone sits down. The person left standing is out.
6. Tic Tac Toe
Have a tic tac toe competition.
7. Educational Family Feud
Play some family feud. You create the themes for the family feud and the answers. Have the kids take turns being the host and the guests answering the questions.
8. Bowling
Have a bowling match in the house using whatever you have available for bowling pins and a ball.
9. Card Games
Teach the kids some new card games or have them play their favorite card games.
10. Balloon Games
Balloon games are always fun and cheap for the kids to play. My kids love to have balloon matches.
11. Indoor Treasure Hunt
Have a indoor treasure hunt. Place things around the house and have the kids go find them.
12. Pin The Tail On The Donkey
Play pin the tail on the donkey.
13. Sorting Games
For the younger kids sorting games are always fun.
14. Tape Games
15. Sock Games
16. Puzzles
Puzzles are another fun activity to keep the kids busy.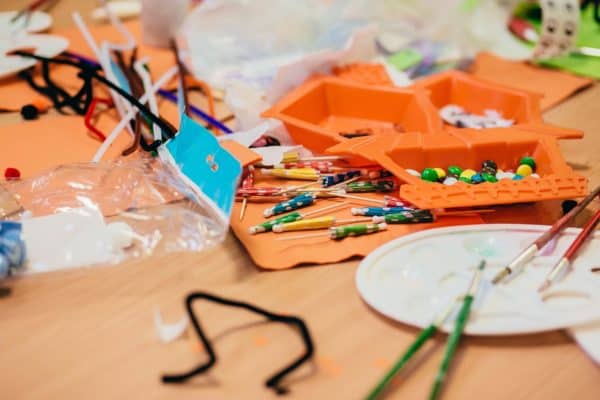 Craft Ideas
17. Make A Caterpillar
Make a caterpillar. You can find the directions here on Easy Peasy and Fun.
18. Make A Bouncy Ball
Homemade bouncy ball. Find the directions here on Lifes Carousel.
19. Make A Paper Fish
Paper Plate Fish. Directions can be found here on Kid Friendly Thing to Do.
20. Make An Owl
Paper Plate Owl Craft. You can find the directions here on Frugal Fun For Boys and Girls.
21. Make Slime
Make Slime. Find the directions to make slime here on One Crazy Mom.
22. Painting
Have the kids paint a nice picture to send to grandma and grandpa.
23. Paint Rocks
Get the kids to find their favorite rock in the yard and have them paint a nice picture on the rock.
24. Make Homemade Playdough
Make Homemade Playdough. You can find the recipe here on Living Well Mom.
25. Make Jewelry
Jewelry making is a fun idea. You can make necklaces and braclets.
26. Make Paper Airplanes
Have fun making paper airplanes and color them. Then you can have airplane racing matches.
Educational
27. Read Books
Set aside some quite time for reading.
28. Make Your Own Books
Have the kids make their own books.
29. Coloring Books
Another quite activity is just coloring.
30. Flashcards
Get some learning in and practice flash cards.
31. Write Letters To Grandpa And Grandma
Set aside a time for writing letters to grandma and grandpa.
32. Diary Writing
If they are older set aside a time to write in their diary.
33. Science Projects
34. Baking
Now is a good time to teach the kids some baking skills. Have them help bake something easy like cookies.
Don't forget to subscribe to our email to get our latest content and the 34 indoor activities and crafts checklist.
Other Articles
12 Fun Exercises You Can Do With Your Kids At Home