If you're looking for some tasty BBQ appetizers to serve at your cookout, I've got you covered. There are plenty of options on this list, so you're bound to find something you'll enjoy. The best part is that all of these recipes are easy to make, and they're packed with delicious, flavorful ingredients.
BBQ Appetizer Recipes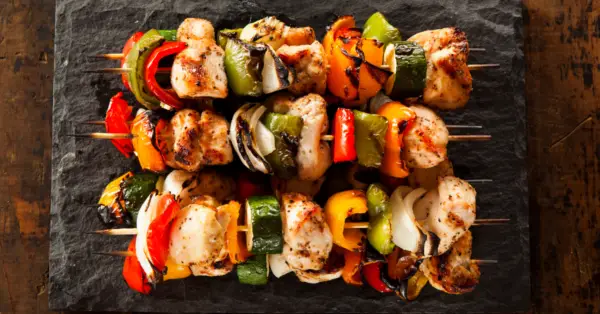 1. Hawaiian Chicken Kabobs
Try these delicious grilled Hawaiian chicken kabobs at your next cookout. These kabobs are filled with marinated chicken, peppers, onions, and pineapples, making for a flavorful and satisfying appetizer that your guests are sure to love. They're easy to make and perfect for outdoor grilling.
Get this recipe on Cooking Classy.
2. Bacon Chicken Kabobs
Why not start your meal off with a delicious kabob? This one is filled with juicy chicken, crispy bacon, and sweet pineapples, and topped off with some tasty BBQ sauce.
Get this recipe on Butter With A Side of Bread.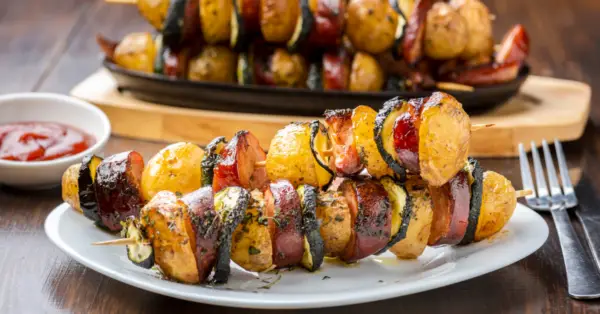 3. Steak and Potato Kabobs
If you're a fan of kabobs and prefer steak over chicken, you'll love this recipe! It's marinated steak paired with mushrooms and potatoes which are grilled perfectly and taste so good.
Get this recipe on Julies Eats and Treats.
4. Teriyaki Chicken Skewers
Try these mouth-watering Hawaiian teriyaki chicken skewers. The homemade sauce gives the chicken a perfect flavor, and the combination of pineapples, onions, and peppers is sure to satisfy everyone's taste buds.
Get this recipe on The Recipe Critic.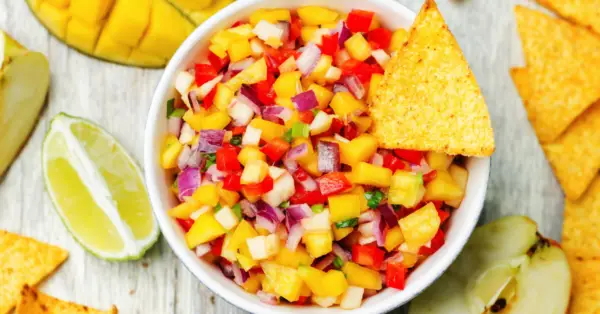 5. Fruit Salsa
I made this delicious fruit salsa. It is so refreshing to enjoy on a hot day. The combination of strawberries, mangos, and pineapples was so colorful and flavorful. I also made some cinnamon sugar tortilla crisps to go with it, which were the perfect complement to the fruity salsa. This recipe shows you how to make the salsa and the tortilla crisps.
Get this recipe on Lemon Tree Dwelling.
6. Corn Dip
Looking for a tasty appetizer that everyone will love? Try making this delicious corn dip. It's easy to prepare and can be ready in no time. The combination of sweet, savory, and slightly spicy flavors is sure to be a hit with your guests. Serve it with some chips, crackers, or vegetables.
Get this recipe on Inspired By Charm.
7. Vegetable Skewers
I love grilling skewers with a variety of vegetables like zucchini, peppers, mushrooms, cauliflower, and corn. It's the perfect way to get some veggies in and enjoy the delicious smoky flavor. Plus, it's easy to customize to everyone's liking. Simply load up your skewer sticks and grill them to perfection.
Get this recipe on Foodie Crush.
8. Zucchini Fries
Looking for a delicious and crispy snack to share with everyone? Look no further than these zucchini parmesan fries. They are sure to be a hit with everyone, especially when paired with a flavorful tasty yogurt basil dip.
Get this recipe on Well Plated.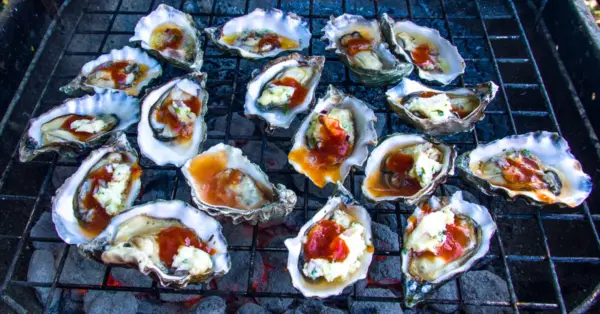 9. Grilled Oysters
For a tasty seafood dish, try grilling up some fresh oysters. Top them with butter, lemon, and parsley sauce for added flavor. You're sure to enjoy this delicious and easy-to-make meal.
Get this recipe on Simply Recipes.
10. Jalapeno Poppers
Make these jalapeno poppers to enjoy at your BBQ. They are filled with a cream cheese herb mixture that is topped with cheese.
Get this recipe on Cookie and Kate.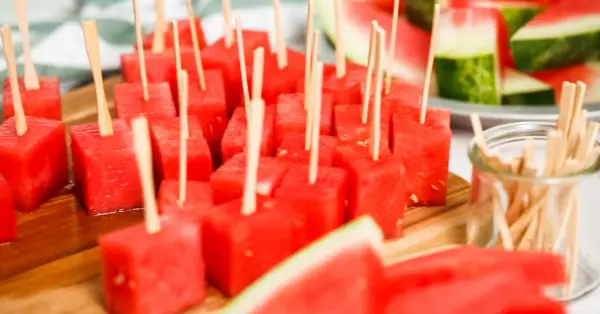 11. Watermelon Bites
On a hot summer day, there's nothing quite like a refreshing watermelon appetizer. Try combining chunks of juicy watermelon with feta cheese and a drizzle of balsamic vinegar.
Get this recipe on Yummy Mummy Kitchen.
12. Mini Cheeseburgers
The kids are sure to love these mini cheeseburgers. They are easy to make and you can customize them with your favorite toppings.
Get this recipe on Pizzazzerie.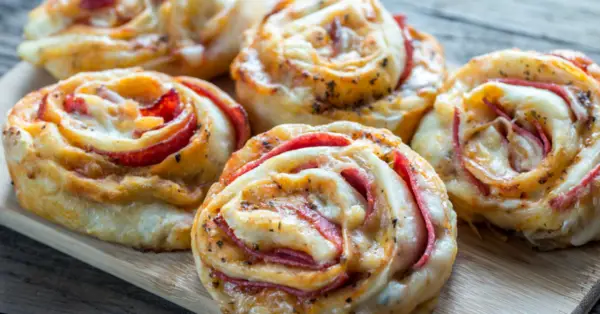 13. Pizza Pinwheels
Try these tasty pinwheels. These pinwheels are coated with pepperoni, cheese, and marinara sauce, making them a perfect party snack.
Get this recipe on Carls Bad Cravings.
14. Honey Garlic Wings
These chicken wings are so good everyone will be asking for seconds. They are coated with a delicious honey garlic sauce.
Get this recipe on The Salty Marshmallow.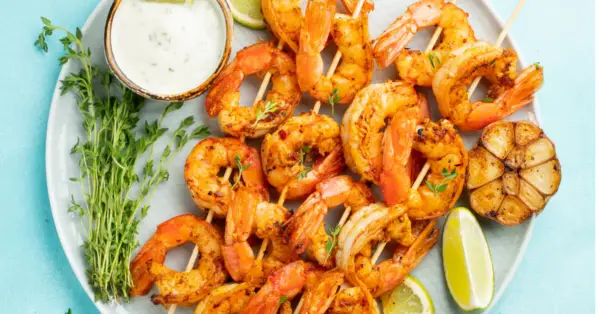 15. Shrimp Skewers
This is a quick flavorful appetizer for you to make. These shrimp skewers are flavored with a lemon herb marinade.
Get this recipe on Feel Good Foodie.
16. Caprese Skewers
Looking for another easy and delicious appetizer idea? Caprese skewers topped with balsamic glaze are a great option.
Get this recipe on Love and Lemons.
17. Grilled Peaches
This recipe shows you how to make the best-grilled peaches. It also includes 6 tasty topping ideas to go with your peaches.
Get this recipe on Ambitious Kitchen.
18. Zucchini Bites
If you're looking for a zucchini appetizer to make you should try this recipe. These little balls are loaded with zucchini, seasonings, and parmesan.
Get this recipe on Ahead of Thyme.
19. Pineapple Skewers
These pineapple skewers are a sweet treat you can enjoy at your BBQ. They are topped with a honey-lime mixture.
Get this recipe on Cookin Canuck.
20. Beef Skewers
Start off your barbecue with these delicious beef kabobs. They are combined with the best marinade and they taste so good.
Get this recipe on Damn Delicious.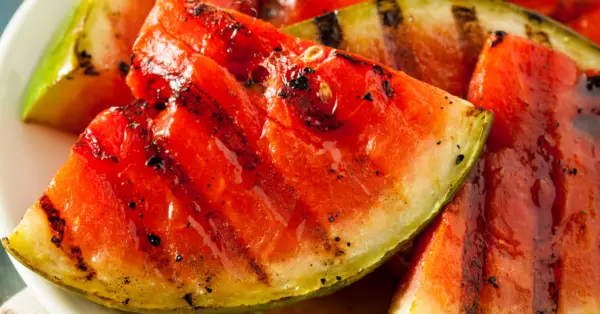 21. Grilled Watermelon
This recipe shows you how to make the best-grilled watermelon. You can top the watermelon slices with a honey lime sauce. The combination of sweet and smoky flavors tastes so good.
Get this recipe on The Mediterranean Dish.
22. Loaded Nachos
Enjoy these delicious nachos at your barbecue. They are loaded with meat, beans, cheese, tomatoes, seasonings, and a few other ingredients.
Get this recipe on Lil Luna.
23. Pulled Pork Sliders
These pulled pork sliders are sure to be gone in no time. For this recipe, you will fill Hawaiian buns with pulled pork, pineapples, cheese, and barbecue sauce.
Get this recipe on Tastes of Lizzy T.
24. Fried Eggplant
The last recipe on the list shows you how to make the best-fried eggplant.
Get this recipe on The Pioneer Woman.
Other Recipes
26 Easy Potluck Seafood Appetizers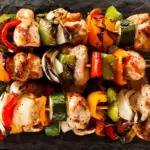 Print Recipe
24 BBQ Appetizers Cookouts
Ingredients
Chicken

Pineapples

Peppers

Onion
Instructions
Gather all your ingredients.

Follow the recipe instructions.

Make the recipe and enjoy.
Notes
Nutrition, serving size, and cooking time may vary depending on which recipe you choose.