Potluck fish recipes– Quick and easy to make. Flavorful and tasty.
Do you want to make fish for dinner, but can't think of a good fish recipe to make? I have come up with a list of the best fish recipes you need to try. They are quick and easy to make and very delicious. There are many different options to choose from.
What Is The Best Fish To Cook At Home?
There are many different types of fish you can cook depending on what is your favorite. I love to cook salmon and cod.
I like to cook cod when making chowders and tacos. It is very versatile and has a mild taste.
I find that halibut is great for grilling and baking. The only problem is that it is pricier than some of the other fish.
Tilapia is a cheaper option. Some people don't like the taste, but with some great ingredients, you can make a delicious tilapia recipe.
My favorite fish to cook is salmon, which is great for roasting and grilling. There are so many tasty recipes you can make with salmon. Always available year-round
Different Types of Fish:
Salmon
Tuna
Rainbow Trout
Halibut
Mackerel
Cod
Sardines
Herring
Mahi-Mahi
Trout
Red Snapper
Flounder
Pike
Tilapia
Tips For Cooking Fish At Home
Don't overcook the fish– Fish can dry out easily so be careful with your cooking times.
Store fish properly-keep your fish frozen until ready to cook. For fresh fish cook as soon as you can or store in the refrigerator for 1-2 days. Fish is very perishable.
Pat dry fish before placing in the pan if cooking on the stove– Make sure to pat dry the fish before placing it in the frying pan.
Cook fish skin side down– It will be crispier and helps avoid overcooking.
Best Ways To Cook Fish
There are many ways to cook fish including:
What Sides Are Good With Fish?
There are many different sides you can eat with fish. My favorites are:
Rice
Potatoes
Salad
Pasta
Vegetables
Can You Meal Prep Fish?
Yes, you can meal-prep fish. Store in airtight containers and your fish should stay good in the fridge for 3 days. Freeze any leftovers you can't eat within that time frame
I love meal prepping my meals it makes life so much easier and saves time. When I want something for dinner just take out my meal prep containers and warm up dinner.
When I am going to meal prep fish, I don't cook it all the way through so that when I go to reheat it, it will not dry out.
How Long To Reheat Fish Meal Prep?
When you are ready to eat your meal thaw out in the fridge and then reheat in the microwave for 1-2 minutes. You can also reheat it in the oven. Preheat oven to 275 and heat for 10-15 minutes or until done.
You can also eat your fish meal prep cold as long as it has been cooked and stored properly.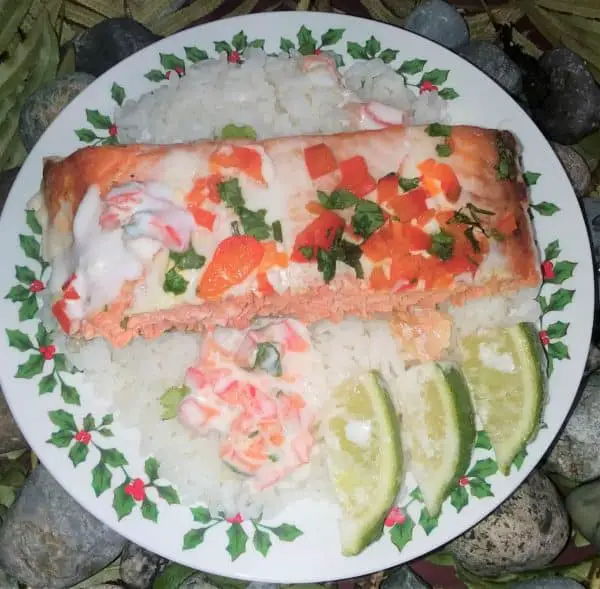 20 Potluck Fish Recipes
1. Honey Pineapple Salmon
This is a great salmon recipe, especially if you love pineapple. Add some honey and you got a delicious tasty fish dinner recipe.
Get this recipe on This Worthy Life.
2. Salmon With Mango Salsa
Here is a creative recipe with a mango salsa topping. If you love mango you will enjoy this recipe.
Get this recipe on Delicious Meets Healthy.
3. Honey Lime Garlic Butter Salmon
This a quick and easy salmon recipe with a delicious honey garlic lime sauce.
Get this recipe on Cafe Delites.
4. Baked Cajun Garlic Butter Cod
Spice things up with this Cajun garlic butter cod recipe.
Get this recipe on The Recipe Critic.
5. Soy Sauce And Brown Sugar Grilled Salmon
Here is a great sweet grilled salmon recipe that is perfect for your summer dinner.
Get this recipe on Let's Dish.
6. Coconut Salmon
Delicious coconut salmon recipe with curry.
Get this recipe on Pinch of Yum.
7. Mediterranean Salmon And Artichoke
Here is a great healthy salmon skewers grilling recipe.
Get this recipe on Sunkissed Kitchen.
8. Fish Tacos
Here is a great taco recipe you should try. It includes a tasty fish taco sauce.
You can find this recipe on Natashas Kitchen.
9. Basil & Lemon Baked Salmon In Foil
Try this basil and lemon salmon recipe that you bake in foil. Foil recipes are quick and easy to make and have less mess to clean up after.
You can find this recipe on Evolving Table.
10. Epic Baja Fish Tacos With Avocado
Here is another delicious taco fish recipe with avocado.
Get this recipe on Joyful Healthy Eats.
11. Honey Glazed Salmon
Delicious sweet honey glazed salmon recipe. Great fish dinner recipe the whole family will love.
Get this recipe on The Chunky Chef.
12. Grilled Salmon With Herb Butter
Here is another grilled salmon recipe with herb butter. Takes less than 30 minutes to make.
Get this recipe on Will Cook For Smiles.
13. Skillet Tilapia With Creamy Lemon Sauce
Try this skillet tilapia recipe with a creamy lemon sauce. The thing I like about tilapia is that this fish is very tender and flaky.
Get this recipe on Diethood.
14. Cajun Salmon Recipe
Here is another great Cajun salmon recipe. Quick and easy to make.
Get this recipe on Cooktoria.
15. Easy Mediterranean Baked Fish
Quick and easy Mediterranean baked fish recipe. On the dinner table in 20 minutes and only need 8 ingredients.
Get this recipe on Midwest Foodie.
16. Parmesan Crusted Baked Fish
Try this great Parmesan-crusted baked fish recipe.
Get this recipe on The Spruce Eats.
17. Simple Salmon Chowder
I had to include a simple salmon chowder recipe. Great quick and easy fish dinner recipe.
Get this recipe on Feasting At Home.
18. Pan-Seared Halibut With Lemon Zucchini Noddles
Try this creative recipe with halibut and lemon zucchini noodles. Great simple healthy recipe.
Get this recipe on Feasting At Home.
19. Salmon With Creamy Dill Sauce
Delicious salmon recipe with a creamy dill sauce.
Get this recipe on Taste of Home.
20. Salmon Stir-Fry
The last recipe shows you how to make the best salmon stir fry.
Get this recipe on Foodie Crush.
Other Recipes
20 Best Grill Foil Packet Recipes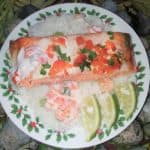 Print Recipe
20 Potluck Fish Recipes
Ingredients
Salmon

Curry

Garlic Powder

Coconut Milk

Spinach
Instructions
Gather all your ingredients.

Follow the recipe instructions.

Make the recipe and enjoy.
Notes
Nutrition, serving size, and cooking time may vary depending on which recipe you choose.