Chicken broth is a liquid that is savory and is made by simmering meat, fish, or vegetables. It is commonly used in soups, sauces, gravies, and casseroles.
If you are making a recipe that calls for chicken broth and you have none left, no need to worry. There are several substitutes you can use as an alternative.
In this article we will go through 10 substitutes you can use in place of chicken broth.
Easy Chicken Broth Substitutes
1. Water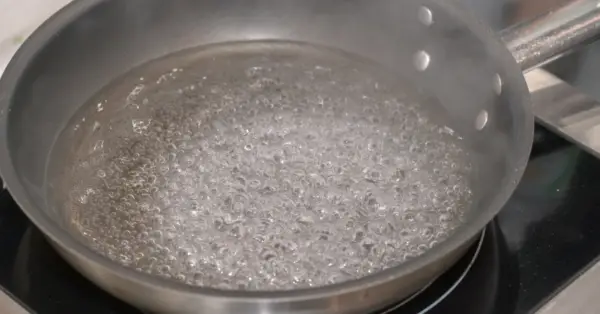 The easiest substitute for chicken broth is water. The great thing about water is that you don't have to go searching in the store for it. It actually makes a good substitute in place of chicken broth.
If you are going to use water you will need to adjust your seasonings to get the correct flavor.
2. Vegetable Broth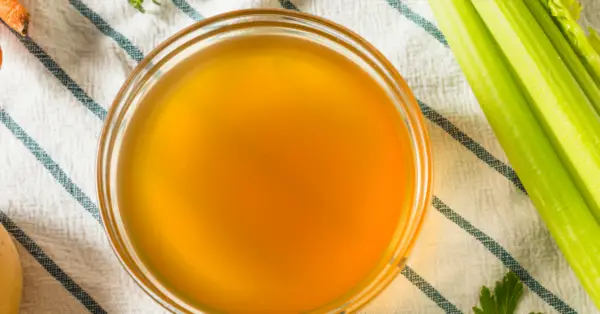 The second substitute I would recommend is vegetable broth. If you don't have chicken broth on hand you might have vegetable broth. They have a similar color and the flavor is very close in taste.
If you are looking for a vegan option, then vegetable broth is a great alternative. You can substitute 1 to 1. Add additional seasonings if needed.
3. Beef Broth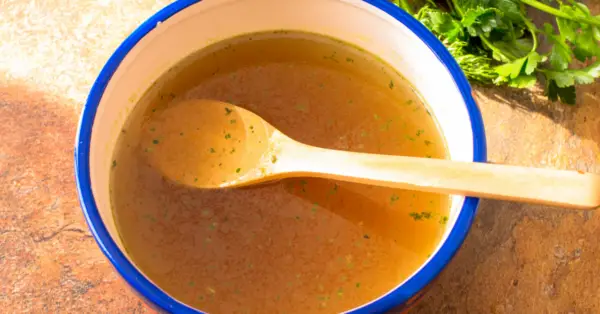 Beef broth works well as a substitute. You need to keep in mind if you use beef broth that it has a more intense flavor. It might not work as well for some dishes. If it is too strong you can mix it with water.
4. Chicken Bouillon Cubes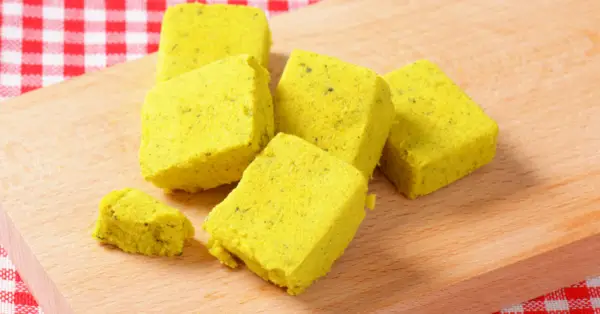 I always like to have these cubes on hand. They work as a great replacement for chicken broth. To use the cubes you need to add 1 cube to 1 cup of hot water. You can then substitute 1 to 1 in your recipe.
5. Dry White Wine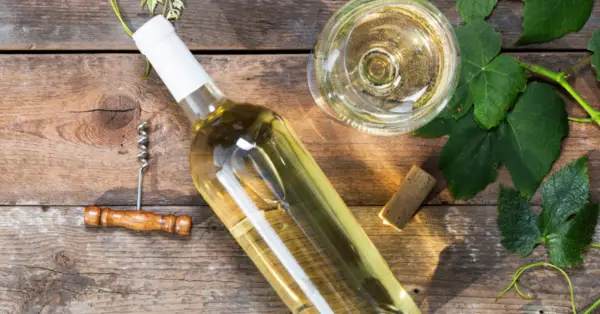 You can use wine as a substitute especially if your recipe uses 1/2 cup or less of chicken broth. The wine will add a nice flavor to your dishes. I would recommend using wine if you need to thin a sauce or to deglaze a pan.
6. Coconut Milk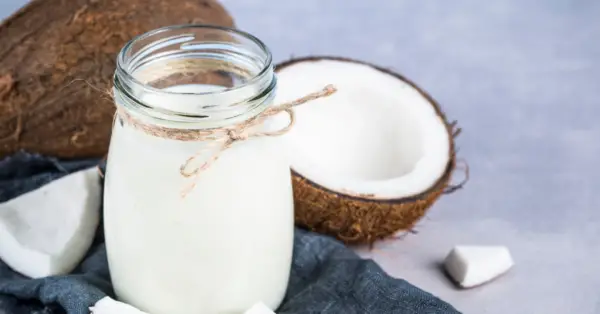 I use coconut milk in a lot of my meals. It adds a creamy rich flavor to recipes. You can use it as a substitute for chicken broth. It works well for making sauces.
7. Chicken Broth Concentrate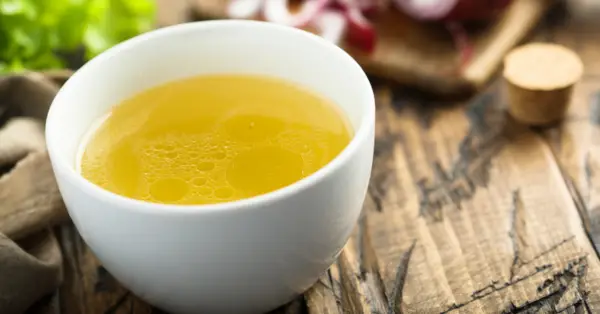 You can find chicken broth concentrate at the store. They usually come in packets. It works well as an alternative to chicken broth. Follow the directions on the package for preparation and then substitute 1 to 1.
8. Butter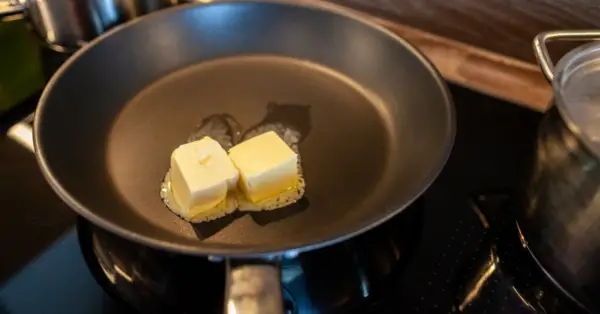 Another alternative is to mix butter and water together to create a great flavor in your dishes. Mix 1 cup of water with 1 1/2 tablespoons of butter. You can then substitute 1 to 1. I like to use this when making sauces.
9. Chickpea Liquid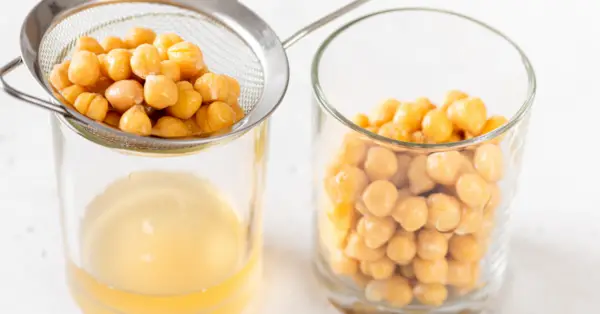 Don't throw away that chickpea liquid. Save it to use as a substitute for chicken broth. Add some water and then substitute 1 to 1.
10. Make Your Own Chicken Broth
If you are not in a hurry you can make your own homemade chicken broth. It tastes just as great as the store-bought broth and it is relatively easy to make.
Ingredients Needed:
3 pounds chicken
2 carrots ( peeled and cut)
3 Celery sticks (cut)
2 onions
1 garlic ( peeled and cut)
1 Teaspoon Salt
1 Teaspoon Black Pepper
1 Teaspoon Rosemary
1 Bay Leave
1 Teaspoon thyme
Water to cover ingredients
Directions:
Add ingredients to a large pot. Cover and bring to a boil.
After boiling reduce heat and simmer for 1-2 hours or until the chicken is fully cooked.
Remove the chicken and let it cool down.
Store in the refrigerator for 4-5 days. Freeze for up to 3 months.
Conclusion
The best substitutes to use for chicken broth are water, vegetable broth, beef broth, chicken bouillon cubes, dry white wine, coconut milk, chicken broth concentrate, butter, chickpea liquid, and your own homemade chicken broth.
Chicken Broth Recipes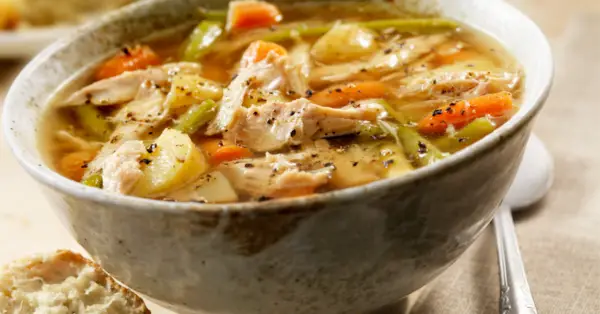 Nothing is better than a hot pot of soup on a chilly fall or winter day.
Turkey Soup
This is a great recipe to use your leftover turkey on. It is full of chicken broth, turkey, noodles, and other delicious ingredients.
Get this recipe on Averie Cooks.
Chicken and Cheddar Biscuits
Try these delicious chicken and cheddar biscuits for dinner tonight.
Get this recipe on Taste of Home.
Creamy Chicken Casserole
Here is a delicious recipe to make for the family. It is very filling and is loaded with chicken, chicken broth, seasonings, noodles, cheese, and other tasty ingredients.
Get this recipe on The Stay At Home Chef.
Squash Soup
This butternut squash soup tastes amazing. It is creamy and full of flavors.
Get this recipe on Cafe Delites.
Vegetable Soup
This recipe shows you how to make the best vegetable soup.
Get this recipe on Cooking Classy.
Other Articles
Best Apple Cider Vinegar Substitutes
10 Best Substitutes For Brown Sugar
7 Best Substitutes For Ketchup