I made a batch of beef stew for the family and we have lots of leftovers. Can we freeze it to use later?
Yes, you can freeze beef stew. It is a great way to store leftovers to use later.
There's nothing like a nice, warm beef stew on a cold day. It's also great to have available for those unexpected guests or as a last-minute dinner idea when you just don't have the energy to cook a large meal.
In this article, we will go through the steps needed to freeze beef stew.
How To Freeze Beef Stew
Freezing beef stew is an easy process with a few simple steps needed.
Directions:
The first thing you need to do is prepare all your ingredients and then cook the beef stew.
After the stew is done cooking you need to let it cool down completely before freezing.
Once it is cooled down you can then portion the stew and pour it into freezer-safe airtight containers.
Label the containers with the date so you can remember when you froze them.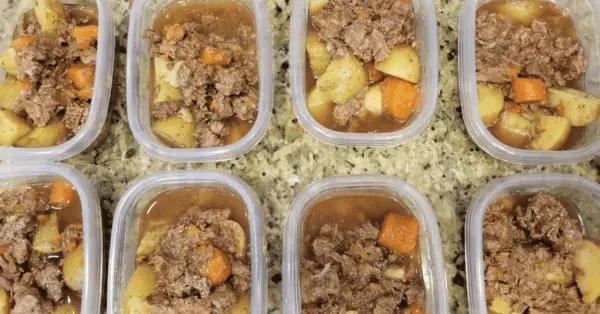 Tips
Cool the stew down completely before freezing.
Remember the stew expands when freezing so you will need to leave some room at the top of your container. Don't overfill the container.
Avoid adding any thickeners to your stew until after you are ready to heat the stew. This will prevent separation.
Add the potatoes when reheating, this will prevent them from getting soft.
Questions
How Long Does Beef Stew Last In The Freezer?
Beef stew can last in the freezer for up to 3 months. Freeze and then label with the date so you can remember when you froze them.
How To Defrost?
Defrost in the fridge. This process usually takes 24 hours. If you are in a hurry you can defrost by placing the containers in cold water and defrost that way.
How Long Does Beef Stew Last In The Refrigerator?
If stored correctly beef stew can last in the refrigerator for up to 3-4 days. Store in an airtight container.
How Do You Reheat Beef Stew?
Reheat the beef stew in the microwave or on the stovetop. Adjust the spices and seasonings to your required taste after reheating.
Can You Freeze Cooked Stew and Dumplings?
I don't recommend freezing stew and dumplings together. Dumplings don't tend to freeze well. They lose their texture and flavor. I would suggest that you make the stew without adding the dumplings and then freeze it. When you are ready to eat the stew then make the dumplings and add them to the reheated stew.
Easy Beef Stew Recipes
Homemade Beef Stew
Beef stew is a great family dish. It tastes wonderful and is easy to make. You can also prepare it in advance which eases a busy schedule.
This recipe combines potatoes, onion, celery, peas, and other tasty ingredients all in one pot. A delicious recipe to enjoy on a cold fall or winter day.
Get this recipe on Spend With Pennies
Beef Stew With Pumpkin
Pumpkin season is here, and it's a perfect time for a hearty meal. This beef stew with pumpkin will warm you from the inside with its tasty flavors.
Get this recipe on Skinnytaste.
Crock Pot Beef Stew
This recipe shows you how to make the best beef stew in the crockpot.
Nothing quite brings you in from the cold like a nice big bowl of beef stew. This warm, hearty dish is layered with delicious flavors and is very easy to make!
Get this recipe on Damn Delicious.
Instant Pot Beef Stew
Instant Pot Beef Stew is a classic comfort food easy to make in a pressure cooker. This is the perfect winter comfort food served with creamy mashed potatoes or rice.
Get this recipe on The Salty Marshmallow.
Conclusion
Yes, you can freeze beef stew. It is a great dish that freezes well and can be made ahead of time.
Cook the beef stew, let it cool down, pour into freezer-safe containers, and then freeze to enjoy later.
Other Articles