Coconut Cauliflower Rice: creamy delicious coconut cauliflower rice with an added garlic flavor.
I always made white or brown rice as my side dish until I discovered cauliflower rice. Every since I have been hooked on cooking different versions of cauliflower rice.
I love making different versions adding ingredients and making various types of sauces to add. I like that it is very versatile. I can change up the ingredients and it still tastes great.
This cauliflower rice recipe with coconut is quick and easy to make. Very delicious and uses simple ingredients.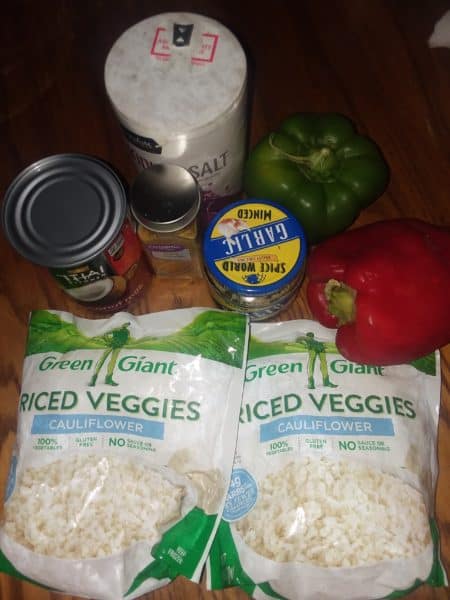 Coconut Cauliflower Rice Ingredients:
Cauliflower Rice: I used a 10 oz bag of riced veggies cauliflower. You can choose to use a whole cauliflower and make your own cauliflower rice. You will need to cut it into small pieces and run through the food processor or grate the cauliflower.
Coconut Milk: Canned coconut milk works best for this recipe. I would not use the boxed coconut milk.
Red Pepper: adds color to this recipe.
Green Pepper: great crunchy texture.
Minced Garlic: just the right amount of garlic flavor added.
Salt: helps bring everything together.
Curry Powder: just a little goes a long way to add a great flavor to this recipe.
How Do You Make Coconut Cauliflower Rice From Scratch
Instructions:
When I make this recipe I like to start by gathering all my ingredients together in one place. Then I will prep everything that needs cutting. For this recipe cut up your red and green peppers into small pieces and then set aside.
Next, I will open a can of coconut milk and pour it into a large bowl. Adding curry powder and salt to the mixture and whisk around well.
After that, you will heat a large frying pan on medium heat with a small amount of oil. When your pan is heated you will add the peppers and minced garlic to the frying pan.
Stir around frequently letting the peppers and garlic cook for 3-5 minutes making sure not to burn the garlic. When that is done cooking you will now add the package of cauliflower rice to the frying pan.
If your rice was frozen you will need to squeeze the bag to separate the veggies. Then pour the cauliflower into your frying pan and stir around, You may have to break apart some of the frozen pieces. Continue to cook for about 5 minutes until veggies are hot.
Then you will add in your coconut sauce and stir around to coat the cauliflower. Cook for another 5 minutes or until hot. Taste and add any additional salt or other seasonings you may like.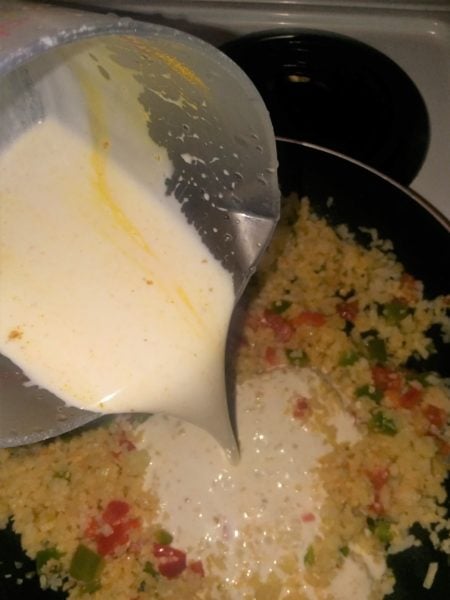 The recipe is all done and ready to enjoy.
Can You Make It Ahead?
Yes, you can make this recipe ahead of time and then when you are ready to eat heat up and enjoy. If stored properly it should last in the refrigerator for 3-4 days.
Do I Have To Use The Packaged Rice?
No, you don't. I used it for this recipe to save time. You can use a fresh head of cauliflower. Just cut it into pieces and grater it or run it through the food processor.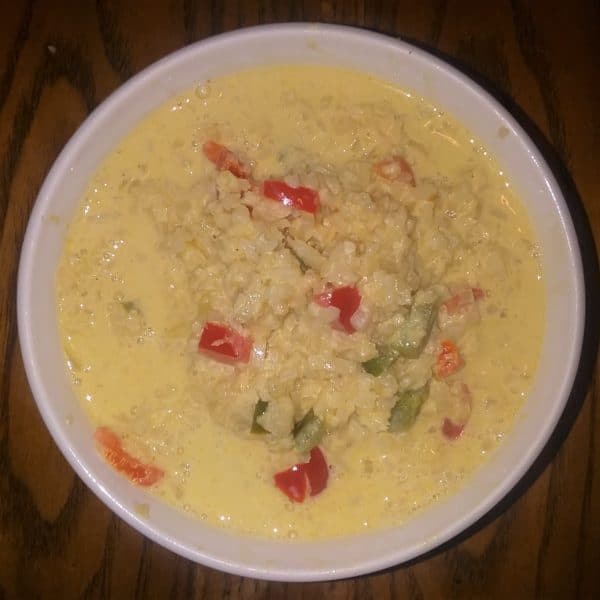 Tips
I used canned coconut milk for this recipe.
You can use whole garlic instead of the minced garlic, cut it into small pieces.
I used a package of riced cauliflower.
You could also use a head of cauliflower, if you go this way then you will need to either run it through a food processor or cut and grater it.
You can omit the curry powder if you don't like curry.
Adjust the salt depending on your taste.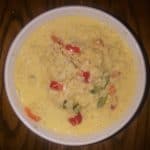 Print Recipe
Coconut Cauliflower Rice
Delicious quick and easy coconut cauliflower rice recipe.
Ingredients
1

10 oz

Package Cauliflower Rice

1

Can

Coconut Milk

2

Teaspoons

Minced Garlic

1/4

Cup

Red peppers

1/4

Cup

Green Peppers

1/2

Teaspoon

Salt

1/2

Teaspoon

Curry Powder
Instructions
Gather all your ingredients.

Cut red and green peppers into small pieces.

Now open the can of coconut milk.

In a bowl add coconut milk.

Add curry powder and salt and mix around well. Set aside.

In a large frying pan add a small amount of oil and heat up the frying pan.

Add red, green peppers and minced garlic to the frying pan.

Stir around and cook for about 3-5 minutes.

Now add your cauliflower rice and stir around.

Cook for 5 minutes over medium heat.

Then add your coconut sauce.

Stir around and cook for another 5 minutes or until done.

Add additional salt if needed.
Notes
Storage: Keep in the refrigerator for 3-4 days.
Nutrition amounts will vary depending on the ingredients used.