Halloween is around the corner, and you know what that means…Halloween cookies for the family.
For me, there is nothing better than Christmas and Halloween both. I am always excited about the festive decorating and baking season that goes along with it.
Whether your timing is impeccable or you can count on the fact that your kids will ask for special treats each year, it's a good idea to be ready to bake some Halloween cookies when October 31st rolls around.
What's Halloween without spooky-themed desserts? These treats will show off your culinary skills while providing some fun monsters and demons for kids to enjoy.
Halloween is a time to get together with family and friends, eat some delicious treats, laugh, and have fun! This year, I've rounded up some of the most popular cookie recipes from around the Internet. You can be sure that there is something for everyone to enjoy and you won't have to stay up late to make them.
Easy Halloween Cookie Recipes
1. Monster Cookies
Halloween is just around the corner. If you are looking for a fun Halloween dessert to make in your kitchen these monster cookies are a great option.
It also serves as a great way to get the kids in the kitchen. I love Halloween, and I especially love homemade treats for the holiday.
These monster cookies are super easy to make, and the kids will love to help out. They are sure to be a hit at your Halloween party!
Get this recipe on Lil Luna.
2. Spider Cookies
Peanut Butter Spider Cookies are very spooky and fun to make. If your kids want to have some creepy Halloween fun, show them how to make these cookies.
They will love making this spooky Halloween snack with you.
These cookies are great for Halloween because they taste awesome and are fun to make.
Get this recipe on All Recipes.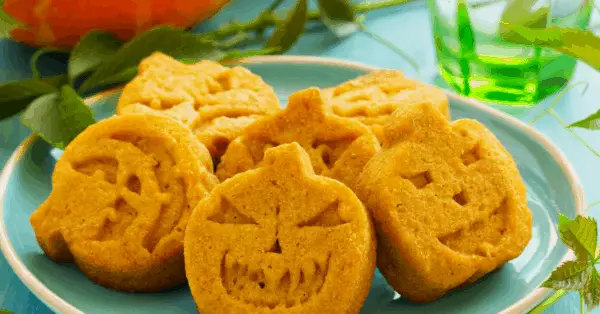 3. Pumpkin Cookies
Halloween is the best day to bake cookies! Let's transform sugar cookies into Halloween Pumpkins!
Frosted with colored sugar and decorated into pumpkins, these sugar cookies are the perfect thing for Halloween. They are soft and chewy and the perfect treat to give out at a party.
Get this recipe on Real Simple.
4. Ghost Cookies
These no-bake cookies are the perfect last-minute treat. No-bake, but not short on taste! Quick and easy to make, you'll want more than one helping!
Delicious and so cute, they're a great way to get your sweet tooth satisfied whether you're celebrating Halloween or just having a craving for something a bit adventurous.
Get this recipe on Savory Experiments.
5. Candy Corn Cookies
Looking for a super-easy cookie recipe for Halloween? Try this outrageously delicious candy corn cookie recipe.
These candy corn cookies are so adorable. They're perfect for a Halloween party or holiday.
Get this recipe on My Recipes.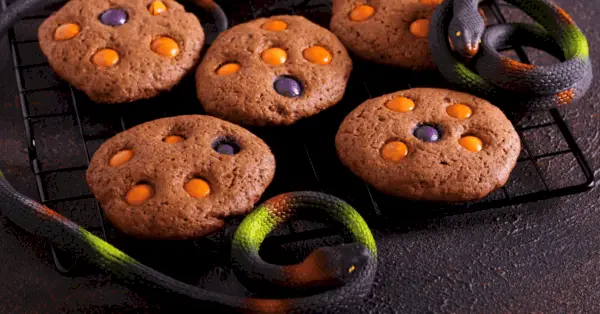 6. Chocolate Cookies
Try these delicious chocolate cookies.
These dark triple chocolate cookies have a spooky look to them and they taste amazing.
They are perfect to make for Halloween.
Get this recipe on Simply Happie Foodie.
7. Scary Face Cookies
We've got a skeleton face recipe that's sure to spook up your kitchen!
Skeleton Face cookies are super fun and creative recipe to make with your kids. They'll love making ​and eating these spooky treats.
Get this recipe on Irish American Mom.
8. Whoopie Pie Cookies
Get ready to bake cookies. These Halloween whoopie pie cookies are the perfect treat for fall.
They're soft, moist, and delicious.
Get this recipe on Martha Stewart.
9. Mummy Cookies
These mummy cookies are fun to make and are a great Halloween treat.
They're adorable and super easy to make.
Get this recipe on The Red Head Baker.
10. Easy Pumpkin Cookies
This recipe takes you through the steps needed to make the best pumpkin sandwich cookies.
These adorable Halloween cookies are made with real pumpkin and feature a jack-o'-lantern face.
They're perfectly soft and taste delicious with chocolate frosting. They're a tasty treat for any October holiday or to serve on Halloween.
Get this recipe on The Kitchn.
11. Sugar Cookies
Here is another great sugar cookie recipe.
You can make these yummy cookies into cats, ghosts, pumpkins, or candy canes.
Get this recipe on Food Network.
12. Candy Corn Cookies
When it comes to decorating the house and baking up some sweet treats the only thing better than candy corn is this recipe for delicious candy corn cookies with caramel chips.
Get this recipe on Family Fresh Meals.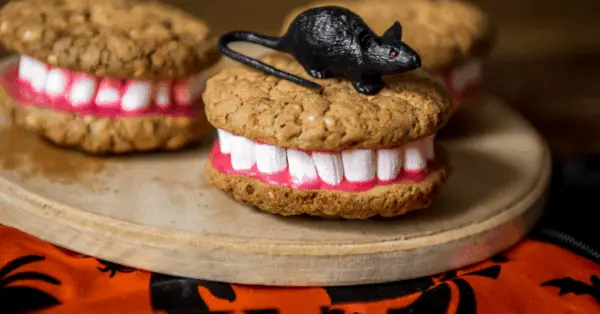 13. Dracula Teeth Cookies
Dracula denture cookies are one of those amazing Halloween cookie recipes that will have you, your kids, or party goers jumping out of your skin. Literally.
These spooky cookies will leave your guests shrieking for more.
Get this recipe on Delish.
14. Bat Cookies
Here is a recipe for the cutest little bat cookies.
The recipe shows you how to make the bat wings and eyes.
They are cute but also spooky.
Get this recipe on Love To Be In The Kitchen.
15. Meringue Ghost Cookies
Perfect for the Halloween season, these meringue ghosts are the perfect festive treat for any party.
They're adorable to look at and fun for kids to make.
Get this recipe on My Baking Addiction.
16. Sprinkle Cookies
These Halloween sprinkle cookies are soft, tender, and covered in holiday sprinkles!
This is a simple Halloween baking recipe that is a snap to make.
Get this recipe on Butter With A Side of Bread.
17. Frankenstein Cookies
Get creative this year and make these freaky Frankenstein cookies.
Make your home extra spooky this Halloween with these fun Frankenstein cookies.
Get this recipe on Taste of Home.
18. Jack O' Latern Cookies
The perfect fall treat; these Milk Chocolate Stuffed Jack-O'-Lantern Cookies will be the star of your Halloween party.
The combination of milk chocolate spiced brown sugar cookies, and cinnamon sugar is sure to please even the pickiest.
Get this recipe on Half Baked Harvest.
19. Halloween Apple Cookies
This light cookie has an apple caramel topping. They are a fun and simple treat for Halloween, however, you could serve them all year round.
Get this recipe on All Recipes.
20. Brain Cookies
The last recipe on the list shows you how to make the best zombie brain cookies.
Get this recipe on Nerdy Mamma.
I hope you enjoyed this list of delicious and spooky Halloween cookie recipes!
I'm certain that these are just what you're looking for to complete your Halloween party treats.
I wish you a spooky, fun, and safe Halloween!
Enjoy spending Halloween with your family, friends, and loved ones.
Other Recipes
20 Easy Halloween Food And Appetizer Ideas
25 Easy Halloween Treats And Desserts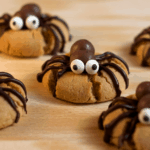 Print Recipe
20 Easy Halloween Cookie Recipes
The best delicious, fun, and spooky halloween cookie recipes.
Ingredients
Flour

Sugar

Butter

Baking Soda

Various Ingredients
Instructions
Choose a cookie recipef rom the list to make for Halloween.

Follow the recipe instructions.
Notes
Nutrition and serving size will vary depending on the recipe you choose.