Christmas is coming. And if you're anything like me, you love making candy for the holidays. It can be so much fun to create new candies for others to enjoy. This list will give you ideas of what you can create that your friends and family will love.
Festive Christmas Candy Recipes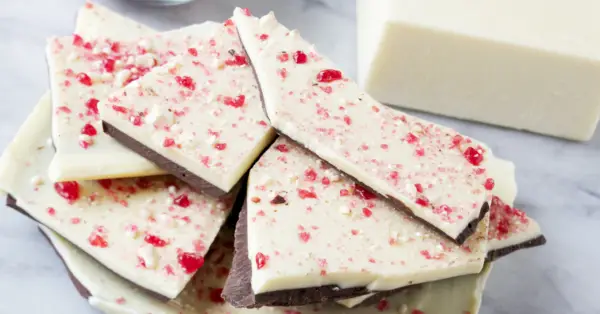 1. Peppermint Bark
If you are looking for a quick recipe that requires no baking then you should definitely try this peppermint bark recipe. White and dark chocolate are combined and then topped with candy canes. Only 4 simple ingredients are needed to make this delicious recipe.
Get this recipe on Dinner At The Zoo.
2. Eggnog Truffles
Eggnog is not only a wonderful beverage for the holidays but also a fantastic ingredient for making some tasty homemade candy. This easy recipe uses eggnog and white chocolate for a delicately sweet, yet flavourful Christmas candy.
Get this recipe on The Spruce Eats.
3. Candy Cane Oreo Balls
These oreo balls are a great treat for any upcoming holiday. Made with oreo cookies, cream cheese, and peppermint. Sweet, creamy, and crunchy.
Get this recipe on Dinner Then Dessert.
4. Cotton Candy Fudge
This easy sweet treat is festive and fun. Your family will love this different take on fudge. Satisfy your craving for sweetness this holiday season with cotton candy fudge.
Get this recipe on Spend With Pennies.
5. Christmas Grinch Bark
The kids will love this festive-themed Christmas grinch bark recipe. White chocolate, green candy, and some other simple ingredients are needed to make this cute recipe for Christmas.
Get this recipe on 3 Boys and a Dog.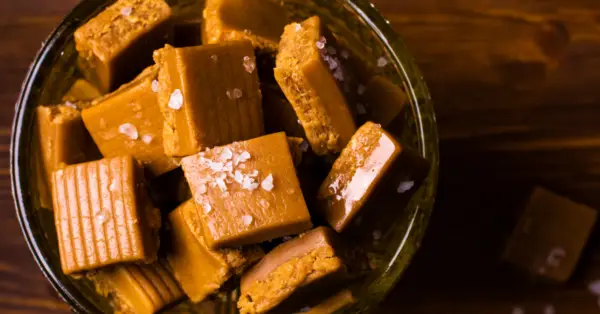 6. Homemade Caramel Candy
I love making and eating homemade Christmas candy. One of my favorites is caramel candy. It is so good! Soft and incredibly chewy. These are sure to be a hit with your guests.
Get this recipe on Inspired Taste.
7. Snowman Chocolate Bark
This is a cute holiday dessert that will look perfect on your dinner table. Chocolate is melted and made into chocolate bark and then is decorated like a melted snowman.
Get this recipe on Princess Pinky Girl.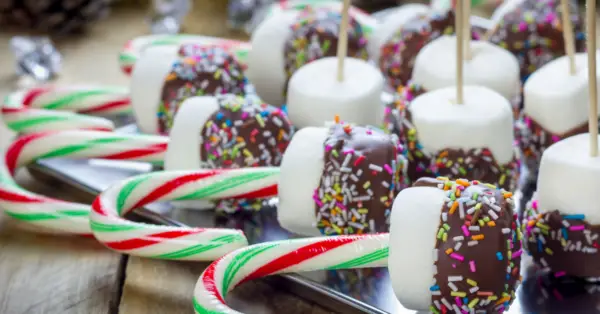 8. Candy Cane Marshmallow Pops
These candy cane marshmallow pops would look nice on your table. You can also use them to hang off your hot chocolate cups.
Get this recipe on Mom Foodie.
9. Homemade Candy Canes
This Christmas, why settle for a store-bought candy cane when you can whip up a batch of homemade ones? This recipe will show you how to make your own candy canes. They are so delicious!
Get this recipe on The Spruce Eats.
10. Christmas Gumdrops
Gumdrops are one of the best parts of any holiday. This Christmas candy recipe will show you how to make gumdrops that look like ornaments, candy canes, and more. And they're easy to make!
Get this recipe on Mom on Timeout.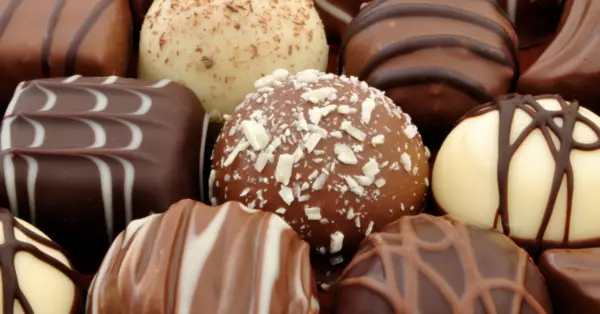 11. Oreo Truffles
The deliciousness of Oreo cookies just got turned up a notch. This 3-ingredient Oreo truffle recipe is easy and oh so yummy. Oreo truffles are so rich, creamy, and delicious that you won't be able to have just one.
Get their recipe on Cooking Classy.
12. Cinnamon Hard Candy
Cinnamon rock candy is one of the most fun and festive holiday treats. This sweet candy tastes wonderful and can also be used as a decoration for your Christmas cookies.
Get this recipe on Taste of Home.
13. Candied Cashews
These cinnamon sugar cashews are so much fun to make at Christmas time. They smell delicious while baking, and taste even better. This is a great Christmas candy recipe that takes only 30 minutes from start to finish.
Get this recipe on Averie Cooks.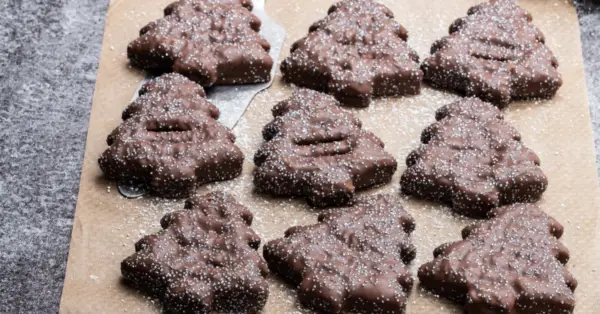 14. Chocolate Christmas Trees
A fun and festive treat for Christmas. These chocolate Christmas trees are so easy to make, they look so cute and taste amazing.
Get this recipe on On My goodness Chocolate Desserts.
15. Christmas Candy Crunch
This is a great treat to have on the table for your guests. It is filled with M & M's, gingerbread man cookies, sprinkles, and candy Christmas crunch.
Get this recipe on The Baker Mama.
16. Cool Whip Christmas Candy
It doesn't get any easier than these 3 ingredient cool whip chocolate candies. These are the perfect dessert for Christmas or to give as a tasty holiday gift.
Get this recipe on Shugary Sweets.
17. Candy Cane Fudge
This amazingly rich and sweet chocolate fudge is topped with crushed candy canes. This would make a delicious homemade holiday gift.
Get this recipe on Taste of Home.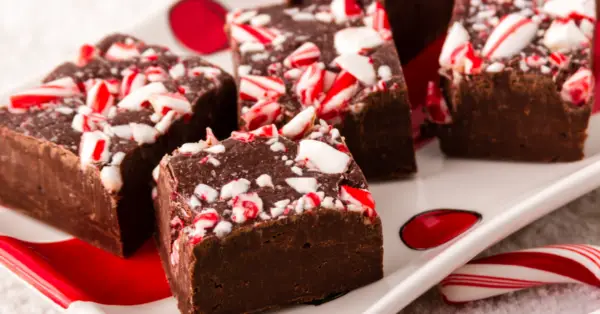 18. Christmas Cracker Recipe
This recipe shows you a creative way to turn your crackers into a tasty holiday treat. This recipe tastes great and is perfect for the holidays.
Get this recipe on Simply Recipes.
19. Almond Joy Truffles
These truffles have a similar taste and texture to the candy bar. Try this delicious no-bake 4 ingredient dessert for your Christmas party.
Get this recipe on The Novice Chef.
20. Rocky Road Candy Bars
You can't go wrong with chocolate and marshmallows and this recipe has it all. This is a tasty treat to make that the kids can help with.
Get this recipe on Errens Kitchen.
21. Candy Cane Hearts Peppermint Bark
Here is another great recipe you should try. In this recipe, you will shape peppermint candy canes into hearts and then fill them with candy coating.
Get this recipe on Betty Crocker.
22. Crock Pot Christmas Candy
Skip the oven and make your Christmas candy in the crockpot. Only 4 simple ingredients are needed. It's a great idea for a holiday treat because you don't have to heat up the house by turning on the oven.
Get this recipe on The Chunky Chef.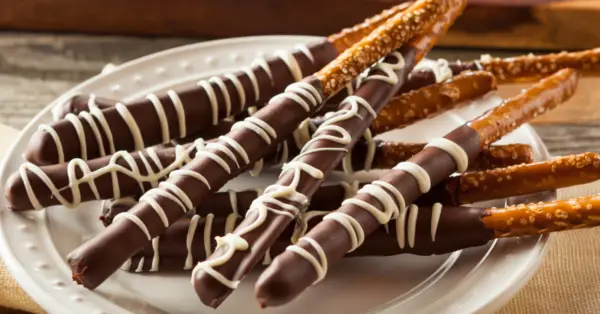 23. Chocolate Covered Pretzels
I'm not sure why it took me this long to realize that you could make chocolate-covered pretzels. I mean, you can cover just about anything with chocolate. I had never made these before but I'm so glad I did. They are so good. Perfect for the holidays.
Get this recipe on Food Network.
24. Caramel Turtle Pecan Candy
Chocolate combined with caramel and nuts shaped like turtles. This would be a cute food gift idea to wrap up and give as a present.
Get this recipe on Lil Luna.
25. Peppermint Patties
The last recipe on the list shows you how to make the best peppermint patties.
Get this recipe on All Recipes.
Enjoy making these delicious Christmas Candy Recipes.
Other Recipes
40 Best Christmas Dinner Ideas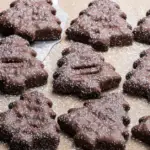 Print Recipe
25 Festive Christmas Candy Recipes
Delicious Christmas Candy Recipes.
Ingredients
Chocolate

Peanut Butter

Vanilla

Sugar
Instructions
Gather all your ingredients.

Pick a candy recipe to make.

Follow the recipe instructions.

Make the recipe and enjoy.
Notes
Nutrition, serving size, and cooking time may vary depending upon which recipe you choose.