Are you searching for the best watermelon drinks to enjoy? You have come to the right place. I have gathered a list of 20 refreshing watermelon drinks for you to make.
There are lots of options on the list that use a variety of ingredients but all contain that wonderful watermelon flavor that we love. Some are sweet, others are tangy, or fruity. You are sure to find something you will enjoy.
These recipes are:
Refreshing.
Full of watermelon flavors.
Alcoholic and non-alcoholic.
Perfect for barbecues, cookouts, and summer parties.
Easy to make.
Refreshing Watermelon Drink Recipes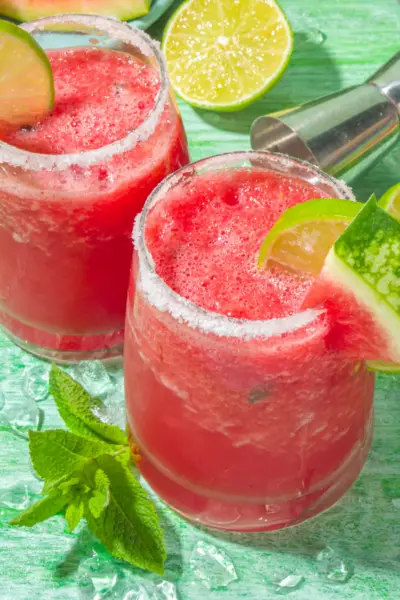 1. Watermelon Margarita
This is a great watermelon margarita recipe that you should try. It is loaded with fresh watermelon, tequila, and a touch of lime and honey.
Get this recipe on Erin Lives Whole.
2. Watermelon Pina Colada
If you love Pina Coladas you will defiantly enjoy this one which is filled with that great watermelon flavor. This drink is loaded with watermelon, pineapple, coconut, and rum.
Get this recipe on Simple Joy.
3. Watermelon Jello Shots
These are perfect to make for your summer party. Your guests are sure to love these shots that look just like watermelons. The watermelon is cut and then filled with watermelon flavors and vodka.
Get this recipe on Amanda's Cookin.
4. Watermelon Sangria
Here is a tasty fruity drink you need to try. It is filled with watermelon, white wine, oranges, and a touch of lime. This is the perfect drink to make for your upcoming party.
Get this recipe on Real House Moms.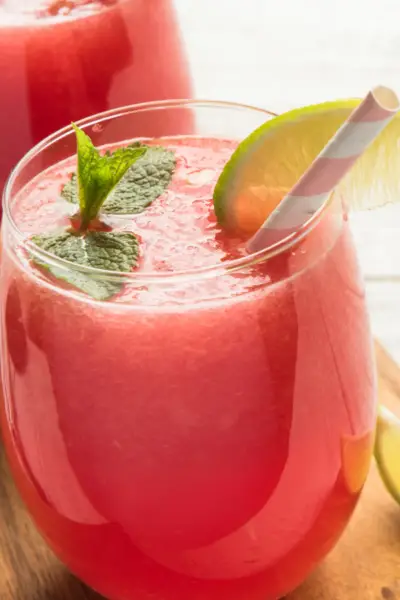 5. Watermelon Rum Punch
Here is a great alcoholic punch recipe for you to try. This one of course is filled with watermelon, but also includes rum and ginger beer.
Get this recipe on Homemade Hooplah.
6. Watermelon Lemonade
This is a delicious non-alcoholic drink the whole family can enjoy. Whip up a pitcher of this drink to enjoy at your summer barbecue or cookout.
Get this recipe on Cooking Classy.
7. Vodka Watermelon Fizz
Here is another drink that combines watermelon and vodka. This refreshing summer drink has a fresh sweet taste that everyone will love.
Get this recipe on Mom 4 Real.
8. Watermelon Cucumber Margarita
This margarita uses a combination of watermelon and cucumber to create a tasty tangy taste. It is filled with watermelon, cucumber juice, and tequila.
Get this recipe on Sweet Life Bake.
9. Watermelon Slushie
You have to try this delicious slushie recipe. This recipe is made with 4 healthy ingredients. It has no alcohol in it so even the kids can enjoy it.
Get this recipe on From My Bowl.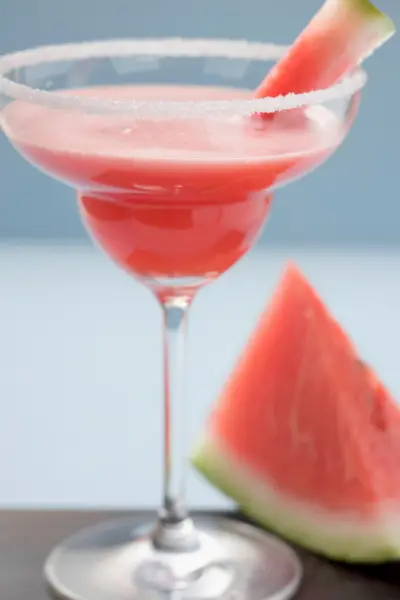 10. Watermelon Daiquiri
This recipe shows you how to make the perfect watermelon daiquiri. You can make this with alcohol or without. It is made with rum, watermelon, and orange juice.
Get this recipe on Striped Spatula.
11. Watermelon Smoothie
This is the perfect refreshing drink to cool down with on a hot summer day. This smoothie is filled with watermelon, strawberries, and yogurt.
Get this recipe on Well Plated.
12. Watermelon Agua Fresca
This is an easy drink recipe that uses 4 simple ingredients. It is non-alcoholic so everybody can enjoy this delicious drink.
Get this recipe on Dinner at The Zoo.
13. Pink Lemonade Watermelon
Here is another non-alcoholic drink you can make for the whole family. This is one of my family's favorites, I always like to make a big pitcher of this drink.
Get this recipe on Midget Momma.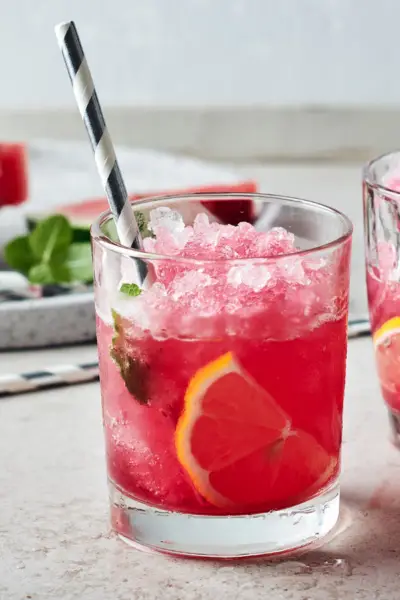 14. Watermelon Mint Lemonade
If you love chick-fil-a drinks then you are going to love this recipe? This is a copycat recipe for their watermelon mint lemonade. This drink is made with watermelons, a few other ingredients, and mint.
Get this recipe on Oh So Delicioso.
15. Watermelon Mojito
This is a great cocktail recipe you enjoy while you are relaxing in your backyard or on your patio. This drink is filled with watermelon, a little syrup, lime, and mint leaves.
Get this recipe on Girl vs Dough.
16. Watermelon Layer Drink
This is a beautiful drink that is sure to be at your barbecue party. It is a two-toned layered drink that is red on top and green on the bottom.
Get this recipe on High Heels and Grills.
17. Strawberry Watermelon Rose Sangria
Try this delicious strawberry watermelon rose sangria. This would be a good drink to make for your 4th of July party. It has that refreshing sweet flavor.
Get this recipe on Recipe Runner.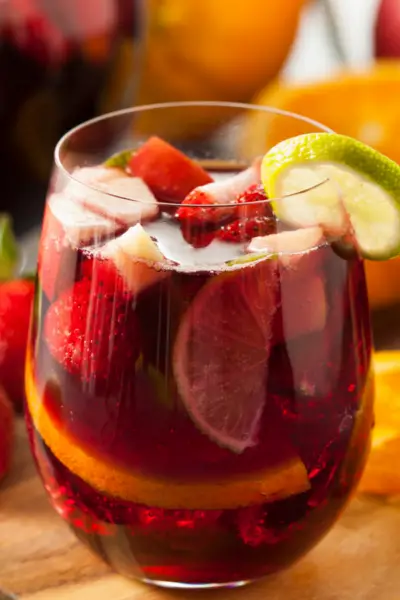 18. Watermelon Banana Smoothie
This is a quick drink for you to make for a quick breakfast or just a refreshing drink to enjoy on a warm day. This drink is filled with watermelon, bananas, and yogurt.
Get this recipe on Miss in the Kitchen.
19. Watermelon Blueberry Smoothie
Here is another delicious smoothie recipe for you to enjoy. This one is filled with watermelons and blueberries.
Get this recipe on Add A Pinch.
20. Watermelon Mocktail
The last recipe on the list shows you how to make the best watermelon mocktail. Enjoy making these drink recipes.
Get this recipe on Gimme Some Oven.
Other Recipes
15 Easy And Healthy Smoothie Drink Ideas
20 Summer Drinks That Will Cool You Off
26 Refreshing Summer Cocktails – Easy Recipes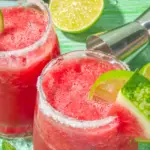 Print Recipe
20 Potluck Watermelon Drink Recipes
Delicious watermelon drink recipes.
Ingredients
Watermelon

Tequila

Ice

Honey

Triple Sec
Instructions
Pick a drink recipe to make.

Follow the recipe instructions.

Gather all your ingredients.

Make the recipe and enjoy.
Notes
Nutrition and serving size may vary depending upon which recipe you choose.