The easiest substitute for tomato sauce is tomato paste. You can also use canned tomatoes, ketchup, tomato soup, or you can make your own homemade tomato sauce.
If you're in the middle of a meal and running out of tomato sauce to pour on your favorite spaghetti, there's no need to worry. You're not going to have to go out for more and buy another jar just yet. Why?
There are several substitutes you can use in place of tomato sauce. The best one I like to use is Tomato paste. In this article we will go through 5 alternatives you can use in place of tomato sauce in your recipes.
Substitutes For Tomato Sauce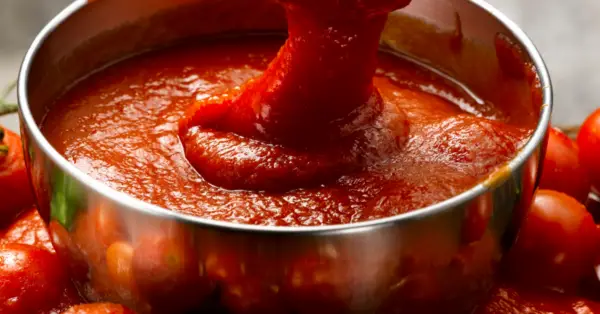 1. Tomato Paste
The best substitute for tomato sauce is tomato paste. If you decide to use tomato paste you will need to mix it with water to thin it out. It works well for a variety of different recipes.
Substitute 1 cup of tomato sauce for 1/2 cup of tomato paste plus 1/2 cup of water.
2. Canned Tomatoes
When I'm struggling to find a substitute for tomato sauce I always reach for a can of stewed tomatoes. These kinds of tomatoes are perfect for replacing tomato sauce.
3. Ketchup
Ketchup can be used as a substitute for tomato sauce. It is best used for recipes that just need a touch of tomato sauce flavor. It works best for casseroles, instant pot, and crockpot recipes. Ketchup does not work as well for pasta recipes.
Substitute 1 cup of tomato sauce for 1 cup of ketchup. Season as needed to get your acquired flavor and taste.
4. Tomato Soup
Tomato soup is another alternative you can use in place of tomato sauce. Keep in mind that tomato soup will add extra liquid and sweetness to your recipe. You will need to reduce the liquids in your recipe if you will use tomato soup.
Substitute for a 10 ounce can of tomato soup minus 1/4 cup of liquid.
5. Make Your Own
The final substitute I like to use is to make my own homemade tomato sauce. I like to make a big batch and then freeze it to use later.
What Tomatoes Work Best For Tomato Sauce
You could technically use any type of tomatoes you like but I find the best to use are Roma and paste tomatoes. I find they have a better texture with little seeds. They produce a great flavor when cooked.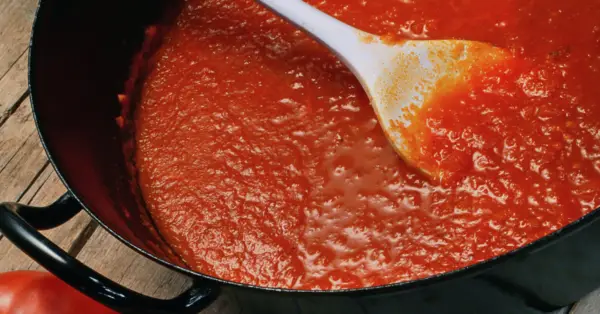 Easy Homemade Tomato Sauce
This recipe is for an easy tomato sauce that uses canned tomatoes.
This homemade tomato sauce is quick and easy to make and so versatile! It's an essential in my kitchen; I use it quite often, whether it's to smother spaghetti or use it as part of my favorite lasagne recipe. Watch how easily it comes together, then try it yourself for a quick dinner!
Ingredients Needed:
2 teaspoons of oil
1 onion
4 teaspoons of minced garlic
3 cans of Whole Tomatoes
3 tablespoons of tomato paste
1 teaspoon of basil
1 teaspoon of oregano
1 teaspoon salt
1/2 teaspoon of ground black pepper
1 1/2 teaspoon of brown sugar
1/2 teaspoon of red pepper flakes (optional)
In a large pot heat the oil. Add onion and cook until it is soft. Add the can of tomatoes. Do not drain the liquid from the tomatoes. Next, add the seasonings and stir everything together. Bring to a boil and then reduce the heat and simmer for 20- 30 minutes or until your desired consistency is reached.
If you want a smoother texture you can use an immersion blender.
Can You Freeze Homemade Tomato Sauce?
Yes, you can freeze tomato sauce and store it in the freezer for up to 3 months.
How Do You Make Tomato Sauce Thicker?
The best way to thicken the sauce is to let it simmer. As it simmers and the liquid disappears it will get thicker.
Storage Instructions
Store in an airtight container in the fridge for up to 3 days.
Other Articles
Best Apple Cider Vinegar Substitutes
10 Best Substitutes For Brown Sugar