What are good side dishes to serve with salmon? Good sides to serve with salmon are:
Roasted Asparagus
Sauteed Green Beans
Sauteed Broccoli
Garlic Mushrooms
Brussels Sprouts
Garlic Roasted Potatoes
Mashed Potatoes
Roasted Sweet Potatoes
Loaded Sweet Potatoes
Garlic Mashed Potatoes
Seasoned Rice
Garlic Butter Rice
Southwest Rice
Plain White Rice
Brown Rice
Fried Rice
Caesar Salad
Broccoli Salad
Avocado Salad
Caprese Salad
Spinach Salad
Lemon Pasta
Garlic Butter Pasta
Spinach Pasta
Salmon is a great healthy meal to serve for lunch or dinner. It tastes great grilled, baked, and pan-fried. I like the fact that it is easy to prepare and it cooks fast.
My family loves salmon, so I try to cook it weekly if I can. I like to pair the salmon with a variety of different side dishes. I am going to share some of those side dish ideas with you today.
There are a variety of different recipes, so you should be able to find something that your family will like. I am sharing vegetable recipes, potato, rice, salad, and pasta recipes.
Let's get started going through the list.
What To Serve With Salmon
Vegetable Recipes
Various delicious recipes go well with salmon as a side dish. My favorites are asparagus, green beans, broccoli, mushrooms, and Brussels sprouts.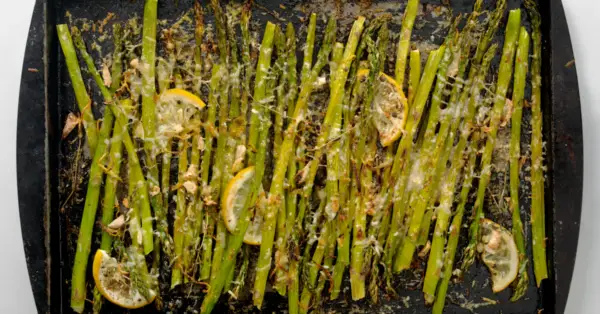 Cheesy Garlic Roasted Asparagus
This is one of my favorite side dishes to serve with salmon. It is quick and easy to make. All you need to do is season the asparagus, bake, and then top with cheese.
Get this recipe on Cafe Delites.
Sauteed Green Beans
Another great side dish to eat with salmon is green beans. This recipe is easy to make and requires only one pan, making cleanup easy.
Get this recipe on Jessica Gavin.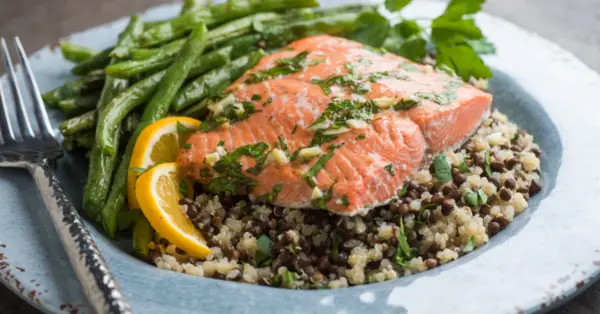 Sauteed Broccoli
This easy sautéed broccoli recipe is a simple and healthy side dish the whole family will enjoy. All you need is broccoli and a few simple ingredients to get this dish to the table quickly.
Sautéed broccoli takes less than 15 minutes and is cooked all in one pan. This recipe is easy to make, quick to prepare, flavorful and healthy.
Get the full recipe and instructions for this sauteed broccoli here.
Garlic Mushrooms
Sauteed mushrooms are a great side dish to enjoy that goes well with salmon. This recipe is easy to make and full of flavors.
Webmd says that mushrooms are packed with essential vitamins and minerals. They contain a lot of nutrients like Vitamin D, Vitamin B, and Potassium.
Get the full recipe and instructions for this garlic mushroom recipe here.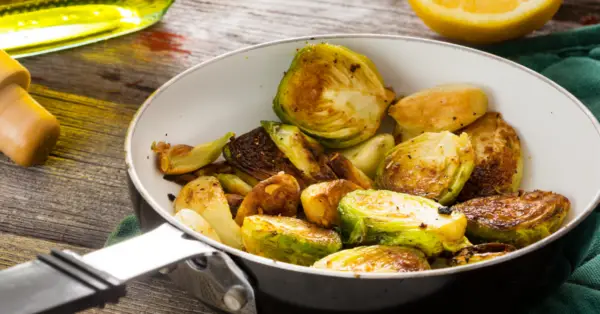 Brussels Sprouts
Around this time of year, I particularly enjoy Brussels sprouts because they're hearty and filling. While I like them in a simple sauté with garlic, salt, and pepper, I've also tried them with curry, caramelized onions, bacon, mushrooms, and so on. Here is an easy Brussels sprouts recipe for you to try.
Get this recipe on Well Plated.
Potato Recipes
Garlic Roasted Potatoes
Simple, crispy garlic roasted potatoes are the perfect side dish for anything. They have a great garlic flavor from roasting and your whole house will smell amazing while they're baking. These garlicky potatoes would be great to go along with salmon, grilled chicken, or beef.
Crispy, garlicky roasted potatoes are the perfect addition to any meal. Add these garlic roasted potatoes to your next dinner.
Get this recipe on Food Network.
Mashed Potatoes
Easy to make, quick to cook, and moist to eat, these creamy mashed potatoes are delicious and comforting. These mashed potatoes are light, fluffy, and delicious. The perfect side dish. Serve them with a delicious salmon and you're set for the perfect meal.
Get this recipe on Natasha's Kitchen.
Roasted Sweet Potatoes
Roasted sweet potatoes are one of my favorite side dishes to enjoy with salmon. The combination of flavor is just perfect, and the potato's natural sweetness really allows you to enjoy the taste of the fish.
Get this recipe on Love and Lemons.
Loaded Sweet Potatoes
Sweet potatoes are one of my favorite and go-to side dishes when I cook salmon. Salmon and baked sweet potatoes are a classic combination – and one of the many reasons is that they are absolutely delicious together! Whether you enjoy them as a side dish, or for breakfast (seriously), baked sweet potatoes are packed with vitamins C & D, fiber, and potassium…
I've been making a lot of baked sweet potatoes lately! They are fast to bake, you can have them as a side dish or have them as an appetizer with some smoked salmon on top. Baked sweet potatoes are healthy and taste amazing.
Get this recipe on Skinnytaste.
Garlic Mashed Potatoes
Garlic mashed potatoes are of my favorite side dishes to enjoy with salmon. This recipe is so simple to make, plus it's loaded with garlic flavor and creaminess that pair nicely with fish recipes or steak dinners.
Get this recipe on The Stay At Home Chef.
Rice Recipes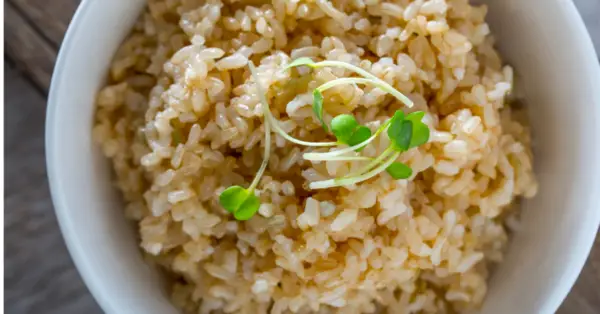 Seasoned Rice
Making a meal that consists mainly of fish can easily become boring. Tired of serving the same salmon drizzled with olive oil and lemon? This is where seasoning plays a crucial role in making your meal seem more interesting. Seasoned rice is an easy side dish to enjoy with salmon and it makes for a great meal served together.
Get this recipe on Recipe Tin Eats.
Garlic Butter Rice
If you're looking for something to serve with dinner, this garlic butter rice is quick and easy. It goes well with chicken, fish, or even beef.
Get this recipe here from Spend with Pennies.
Southwest Rice
Rice is a delicious food that I eat all the time. I round out the meal by eating it with roasted salmon. The flavor of the salmon, as well as the seasoning, provide a lot of flavor to the rice, while at the same time complementing each other.
Get this recipe on Taste of Home.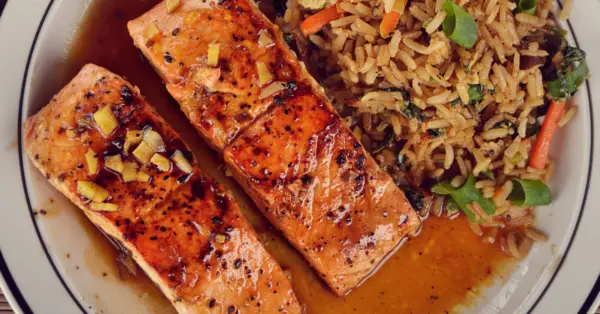 Plain White Rice
White rice goes great with salmon. It's light and fluffy, perfect for soaking up any sauce so it doesn't get wasted. It goes perfectly with salmon and other rich meats.
Here is an article that shows you how to make white rice.
Brown Rice
Brown rice can be a healthy addition to your salmon dinner. It goes well with the fish without detracting from the flavor. A simple side dish of brown rice can make your salmon meals much more enjoyable.
This article shows you how to make brown rice.
Fried Rice
This super-easy fried rice recipe is a great way to use up your leftover cooked rice. It's fast, easy, and delicious. This recipe I am sharing was made on the Blackstone griddle but you can use this recipe to make it on the stovetop.
Get this recipe here for fried rice.
Salad Recipes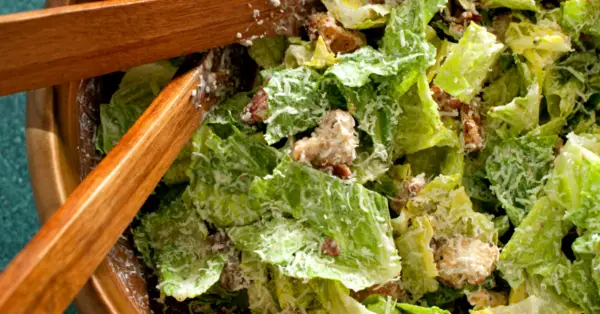 Caesar Salad
Crisp romaine lettuce topped with croutons, Parmesan, and creamy Caesar dressing comes together to make this incredibly tasty Caesar salad.
Get this recipe on Once Upon A Chef.
Broccoli Salad
This is a super easy and tasty broccoli salad. This broccoli salad is something that you can make in less than fifteen minutes and it works as a side dish. You can eat it right away or let it chill to really enhance the flavors.
Get this recipe on Sugar Spun Run.
Avocado Salad
This quick and easy salad recipe is delicious served as a main meal or as a healthy side dish. It tastes delicious along with salmon.
Get this recipe on Cooking Classy.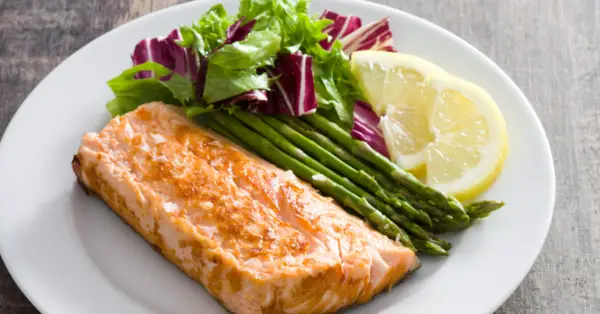 Caprese Salad
The easiest Caprese salad recipe that is simple to make and absolutely delicious. It's perfect for all occasions or whenever you want to treat yourself.
Get this recipe from Food Network.
Spinach Salad
This easy spinach salad is colorful, versatile, and delicious. It can be used as an appetizer, a side dish, or eaten on its own for lunch. It's perfect for potlucks and picnics or to take to work.
Get this recipe from The Kitchn.
Pasta Recipes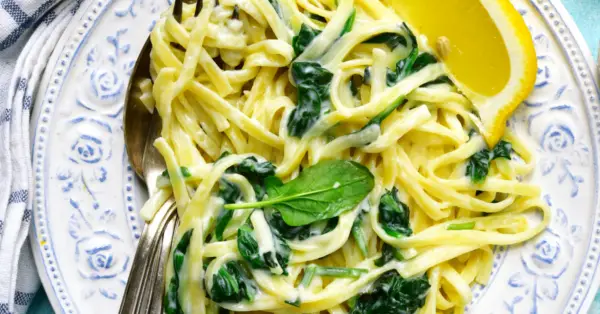 Lemon Pasta
This easy lemon pasta recipe would go perfect with your salmon dinner. It is full of delicious lemon flavors.
Get this recipe on Feel Good Foodie.
Garlic Butter Pasta
Quick pasta recipe that you can get to the table in 20 minutes. This is a great recipe to eat as a side dish with salmon.
Get this recipe on Butter With A Side of Bread.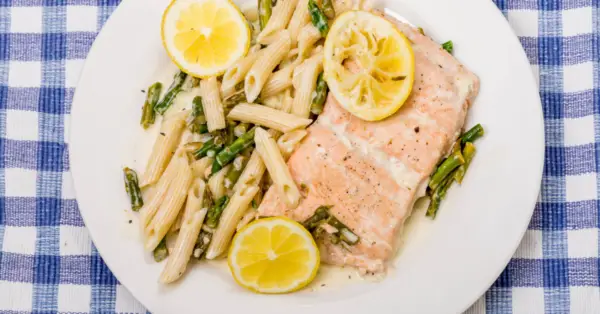 Spinach Pasta
The last recipe on the list shows you how to make a tasty pasta dish with spinach.
Get this recipe here.
Questions
What should I season salmon with?
Season salmon with garlic, salt, pepper, and parsley. Brush the salmon with oil or butter and then season. Bake, grill, or pan-fry to the required temperature.
Do you bake salmon covered or uncovered?
It is better to cover the salmon during the cooking process. Cooking the salmon covered helps it retain the moisture and will make the cooking time faster.
What temperature should salmon be cooked at?
The FDA recommends that salmon should be cooked to a temperature of 145.
What veggies go best with salmon?
Asparagus, green beans, broccoli, mushrooms, and brussels sprouts go well as a side dish for salmon.
How do you know when salmon is done?
To check to see if salmon is done you need to poke it with a fork to see if it flakes. If it separates easily it is done cooking. The salmon should not look raw.
There are a variety of delicious side dishes that you can enjoy with salmon. Enjoy these tasty recipes with your family.
Other Recipes
How To Meal Prep Fish- 20 Easy Fish And Seafood Recipes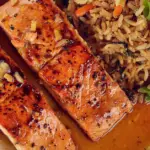 Print Recipe
24 Easy Side Dishes For Salmon
Delicious side dishes to eat with salmon.
Instructions
Gather all your ingredients.

Pick a side dish to make.

Follow the recipe instructions.

Make the recipe and enjoy.
Notes
Nutrition, serving size, and cooking time may vary depending upon which recipe you choose.