Do you need a squash recipe that your whole family will love? Do you have leftover squash but you do not know what to do with it? If so, I have the perfect collection of recipes you can make using squash to create a delicious lunch or dinner.
Read on to discover tasty squash recipes that include delicata squash recipes, acorn squash recipes, summer squash recipes, spaghetti squash recipes, and kabocha squash recipes.
Delicata Squash Recipes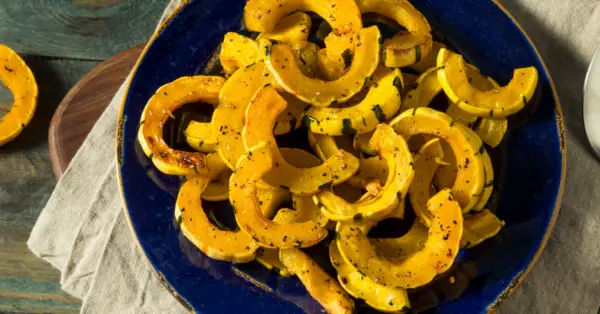 1. Roasted Delicata Squash
The first recipe on the list shows you how to make the best-roasted delicata squash. This is an easy recipe to make with only a few simple ingredients needed.
After roasting, the end result is a crispy, flavorful squash that you can enjoy as a side dish for dinner.
Get this recipe on Rachel Cooks.
2. Stuffed Delicata Squash
This recipe is stuffed with a variety of ingredients like spinach and beans. Those ingredients are then topped with parmesan cheese and then baked.
This dish is very flavorful with a touch of garlic and tastes excellent.
Get this recipe on Aggies Kitchen.
3. Sauteed Delicata Squash
I like the fact that you can eat the rind of delicata squash. When cooked, it becomes nice and soft, with the inside becoming creamy.
This is a great meal to enjoy on a cool fall evening.
Get this recipe on The Spruce Eats.
4. Delicata Squash Casserole
Whip up a batch of this delicious casserole. The combination of delicata squash, seasonings, and sausage really brings out the flavor in this dish.
You will need 45 minutes of cooking time to make this recipe.
Get this recipe on Kalyn's Kitchen.
Acorn Squash Recipes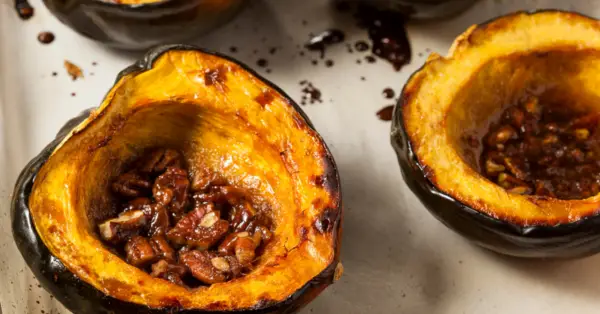 5. Roasted Acorn Squash
Sweet, tender, glazed, flavorful roasted acorn squash. This recipe has it all. The acorn squash is baked to perfection with a flavorful taste and glazed exterior.
10 minutes of preparation and 40 minutes of cooking time are needed to make this recipe.
Get this recipe on Fifteen Spatulas.
6. Acorn Squash Soup
Nothing is better than a pot of hot soup on a cold fall or winter day. This recipe I am sharing with you shows you how to make the best acorn squash soup.
This soup is rich, creamy, and flavorful. It also freezes well, so you can freeze to use later for up to 3 months.
Get this recipe on Well Plated.
7. Stuffed Acorn Squash
If you are looking for something light to make for dinner, I suggest this stuffed acorn squash recipe. The squash is stuffed with quinoa, cranberries, pumpkin seeds, seasonings, and other ingredients.
This creates a flavorful taste that pairs well with the sweetness of the squash. The recipe takes 15 minutes of preparation and 45 minutes of cooking time.
Get this recipe on Cookie and Kate.
8. Grilled Acorn Squash
Here is a squash recipe that you can cook on your grill. The squash turns out tender with a sweet and spicy taste.
Get this recipe on Food Network.
9. Air Fryer Acorn Squash
This recipe shows you how to make acorn squash in your air fryer—a simple recipe to make with only a few steps to follow.
A great side dish to enjoy this fall.
Get this recipe on Domestic Super Hero.
10. Acorn Squash Pasta
Here is a great recipe that pairs acorn squash with penne pasta. The end result is a delicious filling pasta recipe the whole family will enjoy.
Get this recipe on Kitchn.
Summer Squash Recipes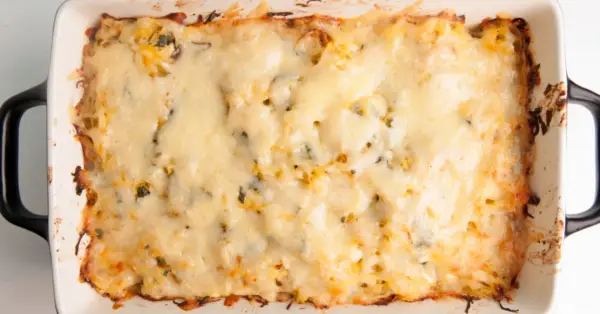 11. Summer Squash Casserole
Summer squash casserole is one of my favorite summer dishes because it's a great way to use up any extra squash I may have lingering in the bottom of my fridge.
This easy summer squash casserole contains a savory breadcrumb topping and simple ingredients like shredded cheese. Serve as a side dish for dinner, or add the leftovers to your work lunch.
Get this recipe on The Seasoned Mom.
12. Summer Squash Soup
This summer, squash soup is my absolute favorite soup. It's straightforward to make, light, and delicious! From the creamy texture to the blends of seasoning, this recipe has it all.
Get this recipe on Taste of Home.
13. Parmesan Squash Chips
These garlic parmesan squash chips are a nice healthy alternative to potato chips. They have a nice crunch, and they are delicious.
Once you try these parmesan squash chips, you'll never eat store-bought ones again. Best of all, they are easy to make and so much healthier than anything you'll find in the snack aisle.
Get this recipe on Diethood
14. Sauteed Yellow Squash
The added seasoning and crispy topping add a vibrant flavor and taste to this sauteed yellow squash recipe.
Something about the mild sweetness of sauteed yellow squash makes it a perfect side dish for almost anything.
Get this recipe on Love and Lemons.
15. Summer Squash Salad
What's not to love about an amazingly delicious, healthy, and beautiful salad recipe? This shaved summer squash salad has all the above. It's light, fresh, and perfect for hot days when you don't feel like cooking over a hot stove.
Get this recipe on Bon Appetit.
Spaghetti Squash Recipes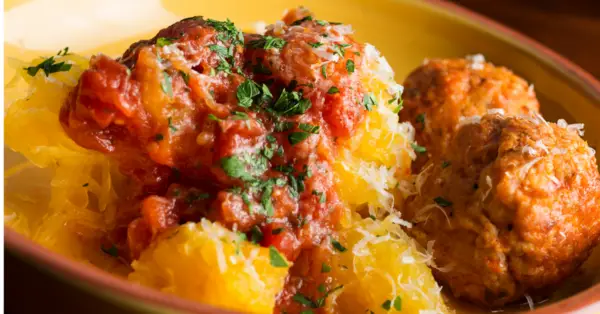 16. Meatballs and Spaghetti Squash
Switch out your regular pasta noodles for spaghetti squash, cutting carbs at the same time.
This spaghetti squash recipe substitutes spaghetti noodles for pasta noodles which are then topped with homemade meatballs. The meatballs are tender, juicy, and full of flavors.
Get this recipe on Food Network.
17. Spaghetti Squash Alfredo
Spaghetti squash alfredo is a healthier alternative to the classic. It's much lower in fat and calories and still tastes amazing! This recipe is so easy to make and perfect for a weeknight dinner.
Get this recipe on That Low carb Life.
18. Stuffed Spaghetti Squash
Stuffed spaghetti squash is a fun recipe that's a healthier option to pasta. The squash is stuffed with meat sauce, seasonings, and topped with parmesan.
Get this recipe on A Sweet Pea Chef.
19. Shrimp and Spaghetti Squash
Not only is spaghetti squash healthy, but it also has a great taste and texture as well. We're talking rich, velvety smooth strands that you can sauté or toss with pasta and butter.
Filled with delicious flavors and low carb content, this spaghetti squash shrimp scampi is a delicious alternative to traditional pasta dishes, plus it has added shrimp that makes it even better.
Get this recipe on Damn Delicious.
20. Spaghetti Squash Pizza
Spaghetti squash pizza is a healthy alternative for your family, and it's delicious. This recipe shows you how to make a pizza crust out of spaghetti squash topped with cheese.
Get this recipe on Delish.
Kabocha Squash Recipes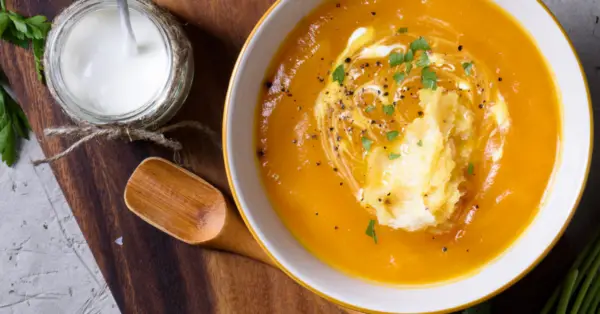 21. Kabocha Squash Soup
As the nights get colder, you might find yourself craving a bowl of hot soup. Like this creamy kabocha squash soup. Is there anything more relaxing than the smell of nutmeg, ginger, and cumin wafting through the air?
This flavorful and creamy soup is sure to leave you feeling rejuvenated.
Get this recipe on Simply Recipes.
22. Roasted Kabocha Squash
Kabocha squash is sweet, creamy, has a great texture, and tastes great when roasted. This kabocha squash is roasted perfectly and then topped with a delicious soy-ginger sauce.
Get this recipe on Jessica Gavin.
23. Kabocha Squash Salad
This hearty salad is loaded with spinach, kabocha squash, and a few surprise ingredients. Everything goes together so well, creating a refreshing taste.
Get this recipe on Food 52.
24. Kabocha Squash With Wild Mushrooms
The last recipe shows you how to make the best kabocha squash with added quinoa and wild mushrooms.
Get this recipe on Food and Wine.
Other Recipes
20 Easy Spaghetti Squash Recipes
50 Favorite Crock Pot Recipes – Slow Cooker Dinner Ideas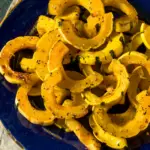 Print Recipe
24 Best Squash Recipes
Delicious Squash Recipes.
Instructions
Gather all your ingredients.

Follow the recipes instructions.

Make the recipe and enjoy.
Notes
Nutrition, serving size, and cooking time may vary depending upon which recipe you choose.