Need a little help with dinner? I have got you covered. Check out these cozy comfort food recipes that are sure to warm you up on those cold winter nights.
Winter Dinner Ideas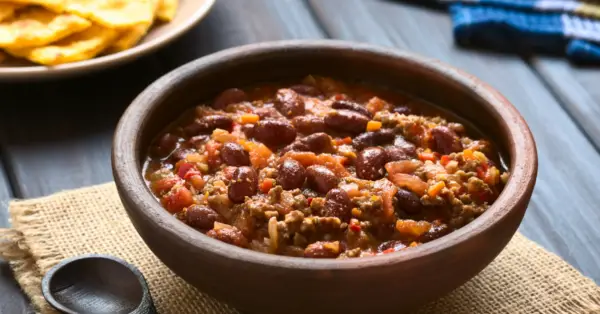 1. Perfect Chili Recipe
Enjoy a hot pot of chili on a cold winter day. This is a great dinner idea to make for the family. It is loaded with beans, ground beef, and seasonings. I like that chili is easy to make and you can get it to the table in under 30 minutes. My family really enjoyed this chili. Give it a try for dinner tonight.
Get this recipe on The Wholesome Dish.
2. Potato Soup
The next recipe shows you how to make a delicious potato soup. This creamy potato soup tastes amazing and is loaded with potatoes and bacon. It is full of flavors and is the perfect winter dinner idea. A great comfort food the whole family will love.
Get this recipe on Sugar Spun Run.
3. Oxtail Stew
Try something different for dinner and try this tasty oxtail stew recipe. The meat is seasoned perfectly and then is cooked until tender and then is combined with the best gravy. Enjoy with rice.
Get this recipe on Jo Cooks.
4. Teriyaki Chicken Casserole
Teriyaki Chicken Casserole is a new favorite one-pan meal for my family. The teriyaki sauce gives this casserole the best flavor and the rice and vegetables complement the chicken so well. This recipe is great because there is only one pan to clean up which makes it a perfect weeknight meal.
Get this recipe on Life in The Lofthouse.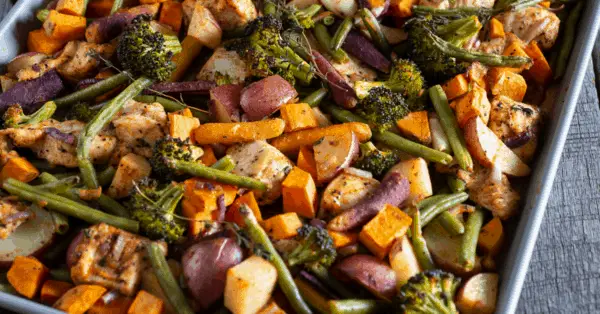 5. Sheet Pan Chicken and Vegetables
This sheet pan dinner is made with chicken and seasonal vegetables so it's easy and full of flavor. Made in just one pan, the veggies roast with the chicken, making it easy to prepare. It's simple, cooks up quickly, and tastes great.
Get this recipe on Well Plated.
6. Brown Sugar Chicken
This one-pan chicken and sauce recipe is packed with bold flavors that can't be missed. Chicken is simply seasoned and seared until crisp, then bathed in a sweet garlic brown sugar sauce that everyone will rave over.
Get this recipe on Carl's Bad Cravings.
7. Turkey Chili
This easy turkey chili recipe is the perfect recipe to feed a hungry crowd. It's loaded with bold flavors, and it has healthy ingredients that make it a perfect meal for any day of the week.
Get this recipe on House of Yumm.
8. Chicken Noodle Soup
A delicious chicken noodle soup recipe is the perfect thing to make during the winter. The ultimate comfort food. Tasty, warm, and filling.
Get this recipe on Damn Delicious.
9. Lasagna With Cottage Cheese
Make this delicious lasagna recipe for dinner tonight. Loaded with meat sauce, creamy, cheesy, and absolutely tasty. Great filling meal the whole family can enjoy.
Get this recipe on Go Money Mom.
10. Baked Ziti
Baked ziti is a great dinner for any season. However, I find it especially appealing during the fall and winter months. The rich and creamy sauce combined with the cheesy goodness of baked ziti make for a delicious filling meal.
Get this recipe on The Pioneer Woman.
11. Beef Stew
Beef stew filled with tender chunks of beef, vegetables, all simmered to perfection in a thick and creamy broth. Hearty, filling, and so delicious.
Get this recipe on Spend With Pennies.
12. Chicken Chili
This easy White Chicken Chili made with corn, beans, chicken and a creamy broth is super flavorful and perfect on a cold winter night. This is one of those recipes that I make over and over again because it's just so good.
Get this recipe on Cooking Classy.
13. Slow Cooker Stew
Warm-up on a crisp fall or winter day with this amazing recipe for beef stew that you can make in the slow cooker. With meat that's so tender, it almost falls apart, mixed with mouth-watering potatoes, sweet carrots, crunchy peas, and savory onions and garlic, you'll be glad you tried this recipe.
Get this recipe on The Cozy Cook.
14. French Onion Soup
French onion soup is a great winter dish. The rich, savory taste of this soup will keep you warm and cozy in the winter months.
Get this recipe on Food Network.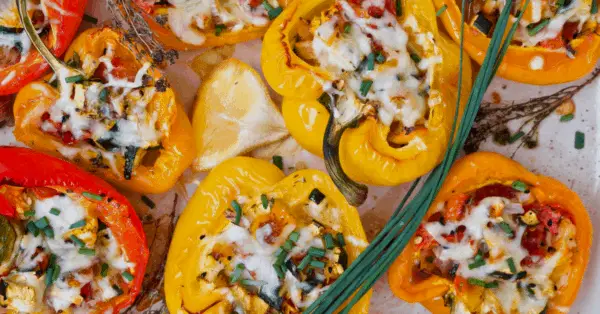 15. Stuffed Peppers
Who doesn't love stuffed peppers? They're like a meal in an edible container. They are hearty, filling, and delicious. This is my all-time favorite way to make them.
Get this recipe on Salt and Lavender.
16. Enchiladas
These chicken enchiladas are my go-to for easy dinners. Corn tortillas filled with chicken, tasty ingredients, and the best homemade enchilada sauce.
Get this recipe on Gimme Some Oven.
17. Seafood Stew
A seafood lover's dream dinner, this Seafood Stew is made with ingredients like scallops, shrimp, clams, and salmon. A delicious recipe to make for dinner.
Get this recipe on Iowa Girl Eats.
18. Meatballs
This delicious meatball recipe will give you a tasty dish for a weeknight dinner. It's much healthier than the frozen options sold in stores and it is so easy to make. Serve over pasta or rice with a side of veggies.
Get this recipe on Inspired Taste.
19. Chicken and Dumplings
Freshly-made dumplings added to the best chicken soup full of flavors. It's comfort food at its best! This takes no time to make but tastes like you spent hours in the kitchen.
Get this recipe on The Novice Chef.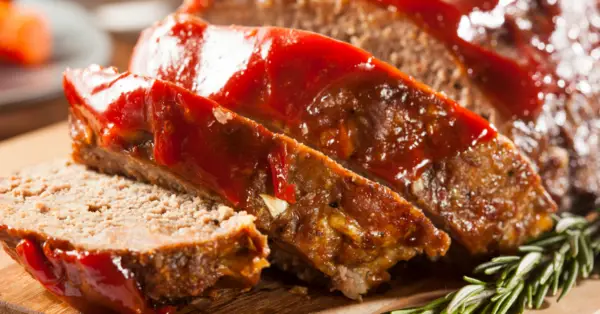 20. Meatloaf
Get ready to make the best meatloaf you've ever had. It's super tender with a sweet and tangy glaze. Family-friendly, easy to make, and absolutely delicious.
Get this recipe on Natasha's Kitchen.
21. Chicken Stew
Looking for a delicious, simple chicken recipe? Try this easy-to-make, hearty, and delicious chicken stew.
Get this recipe on Food Network.
Enjoy making these delicious recipes.
Other Recipes
32 Best Dinner Ideas For Tonight
20 Quick And Easy Dinner Recipes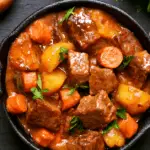 Print Recipe
21 Cozy and Warm Winter Dinner Ideas
Delicious recipes to make this winter.
Ingredients
Stewing Beef

Pepper

Salt

Oil

Beef Broth
Instructions
Gather all your ingredients.

Follow the recipe instructions.

Make the recipe and enjoy.
Notes
Nutrition, serving size, and cooking time may vary depending upon which recipe you choose.