Smoothie bowls are a quick and healthy way to start your morning. Made with fruit, nuts, or seeds, smoothie bowls are a nutrient-rich meal that keeps you energized all morning.
I have gathered a list of some of the best smoothie bowl recipes for you to try. There are lots of different options and flavors to try. Let's get started going through the list of recipes.
Smoothie Bowl Recipes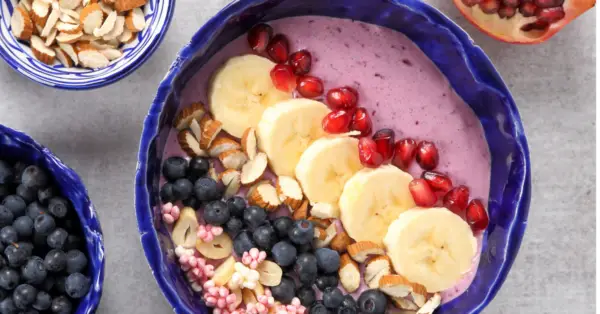 1. Berry Smoothie Bowl
A smoothie bowl in the morning is a refreshing way to start your day. All you need is 3 ingredients, 5 minutes, and a blender to make this recipe.
Get this recipe on Minimalist Baker.
2. Mango Smoothie Bowl
The perfect breakfast, this Tropical Mango Smoothie Bowl is creamy and decadent but healthy, too! It's full of delicious fruit and can be made entirely from scratch in under 15 minutes. This smoothie bowl recipe has it all. Sweet mango, tarty blueberries, coconut, and crunchy granola.
Get this recipe on Downshiftology.
3. Strawberry Smoothie Bowl
Strawberry smoothie bowls are great for breakfast or a healthy snack between meals. They're easy to make and can be enjoyed virtually any time of day. This Strawberry smoothie bowl is a perfect combination of fruit and yogurt to start your day right.
Get this recipe on The Noice Chef.
4. Chocolate Smoothie Bowl
Do you love chocolate peanut butter cups? You will for sure love this vegan, gluten-free chocolate peanut butter smoothie. It's a great breakfast option and the best part – it only takes 5 minutes to prepare.
Get this recipe on Bakerita.
5. Banana Smoothie Bowl
This Peanut Butter smoothie bowl recipe is filling and delicious. It takes just minutes to make, is full of protein and fiber, and tastes so good.
Get this recipe on Liz Healthy Table.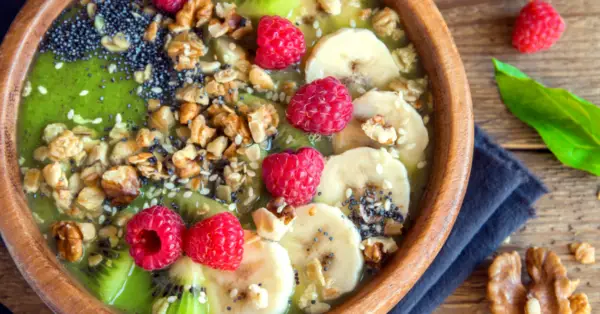 6. Green Smoothie Bowl
Energize your mornings with this smoothie bowl, which packs mango, spinach, pineapple, and avocado in a creamy texture. Healthy, delicious, and full of flavor.
Get this recipe on Natasha's Kitchen.
7. Raspberry Peach Smoothie Bowl
This raspberry peach smoothie bowl has a lot of sweet, fruity flavors! I love this one in the morning, especially with a drizzle of honey on top.
Get this recipe on Eating Well.
8. Strawberry Banana Smoothie Bowl
It's the perfect treat for a hot summer day. With its ice cream-like texture and naturally sweet strawberry-banana taste, even your pickiest eaters will love it.
Get this recipe on Cooktoria.
9. Avocado Smoothie Bowl
This recipe is not only delicious, but it's also full of flavor. This is a bowl you won't be able to put down. Top with nuts and raspberries.
Get this recipe on Del's Cooking Twist.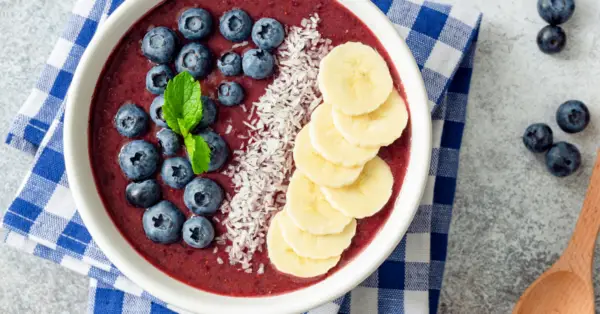 10. Blueberry Smoothie Bowl
When you need a quick and easy breakfast recipe, look no further. This Blueberry Smoothie Bowl is topped with chia seeds, fresh blueberries, and a drizzle of honey.
Get this recipe on A Sweet Pea Chef.
11. Dragon Fruit Smoothie Bowl
Try this delicious dragon fruit smoothie bowl. It has a vibrant beautiful color that looks amazing in a bowl, plus it is full of the best flavors, topped with kiwi, blueberries, and nuts.
Get this recipe on Plantings and Pairings.
12. Peanut Butter Smoothie Bowl
It's a great day to indulge in a peanut butter smoothie bowl. This peanut butter smoothie is loaded with bananas, peanut butter, and yogurt. And the best part? It takes about 10 minutes to make.
Get this recipe on The Recipe Critic.
13. Tropical Smoothie Bowl
Last week I made this Tropical Smoothie Bowl and it was so good that I couldn't stop eating it. The combination of pineapple, mango, topped with coconut was absolutely refreshing.
Get this recipe on Ahead of Thyme.
14. Coconut Smoothie Bowl
You should definitely try this coconut smoothie bowl. Not only does it contain coconut but also a wide variety of fruits like strawberries, peaches, bananas, and blueberries. It tastes amazing.
Get this recipe on How Sweet Eats.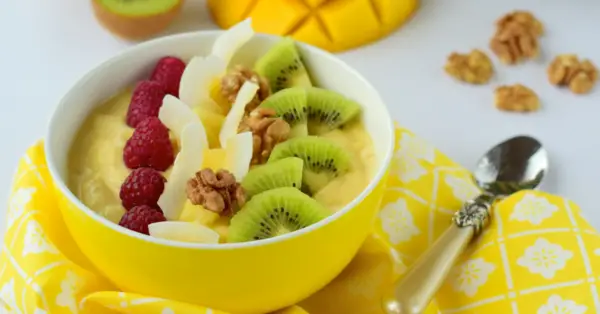 15. Pineapple Smoothie Bowl
Whether you are looking for a pre-workout smoothie or just a delicious breakfast smoothie, you can't go wrong with a pineapple smoothie bowl. Pineapple is the perfect fruit for a delicious smoothie bowl. Not only does pineapple give this smoothie bowl recipe a tropical twist, it also makes it sweet and fresh.
Get this recipe on Kitchen Confidante.
16. Raspberry Smoothie Bowl
This Raspberry Smoothie Bowl is a healthy breakfast recipe loaded with fresh raspberries and topped with banana slices and almonds.
Get this recipe on Real Simple.
17. Watermelon Smoothie Bowl
This watermelon smoothie bowl is an easy and delicious summertime breakfast. In the warmer months, I like to make this smoothie bowl in the morning and then pack it up to eat as a snack later during the day.
Get this recipe on Tasty.
18. Peach Smoothie Bowl
Simple smoothie recipe that uses peaches and daiya yogurt. Perfect for breakfast or a quick snack.
Get this recipe on Daiya Foods.
19. Yogurt Smoothie Bowl
A delicious smoothie bowl loaded with berries, bananas, and yogurt.
Get this recipe on Food Network.
20. Cherry Smoothie Bowl
The last recipe shows you how to make the best cherry smoothie bowl.
Get this recipe on Damn Delicious.
Other Recipes
15 Easy And Healthy Smoothie Drink Ideas
20 Easy Healthy Eating Recipes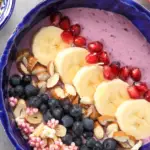 Print Recipe
20 Smoothie Bowl Recipes That Will Jumpstart Your Day
Delicious smoothie bowl recipes.
Ingredients
Mixed Berries

Bananas

Chia Seeds
Instructions
Gather all your ingredients.

Pick a smoothie bowl to make.

Follow the recipe instructions.

Make the recipe and enjoy.
Notes
Nutrition, and serving size may vary depending upon which recipe you choose