Are you looking for crockpot soup recipes that are perfect for chilly fall days?
Fall is one of my favorite seasons. The weather starts to cool off, the leaves start to change colors, and it's a great time to make some easy crock pot soup recipes that will help warm you up during those cool days.
You can easily create delicious soups with your crockpot. With several ingredients and a little time, you could be enjoying hearty soups all fall and winter long.
Crockpot soup recipes are easy, comforting, and delicious. I have put together a list of some of the best crockpot soup recipes for you to choose from. Let's get started going through the list of soup recipes.
Easy Crock Pot Soup Recipes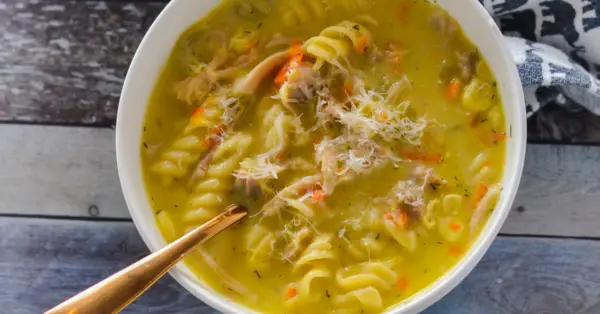 1. Creamy Chicken Noodle Soup
There is nothing better than a good, easy crockpot soup recipes recipe that your whole family will love. This Creamy Chicken Noodle Soup really fills the bill on both accounts. Not only is it juicy and full of tender chicken breast pieces, but also it has that nice flavor and texture from the egg noodles.
Get this recipe on Damn Delicious.
2. Cabbage Soup
I love soup in all its forms but I love to chop vegetables and stir boiling pots even less so when I can get away with a no-fuss crockpot recipe, I do. It's cozy and full of goodness, easy to throw together, and economical too – And a great way to use up leftovers. Here's my favorite cabbage soup recipe.
Get this recipe on The Busy Baker.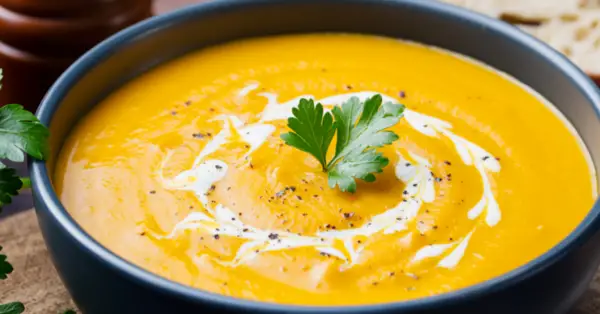 3. Pumpkin Soup
This delicious pumpkin soup is perfect for an easy crockpot recipe. And, it is oh so tasty.
Get this recipe on Simply Recipes.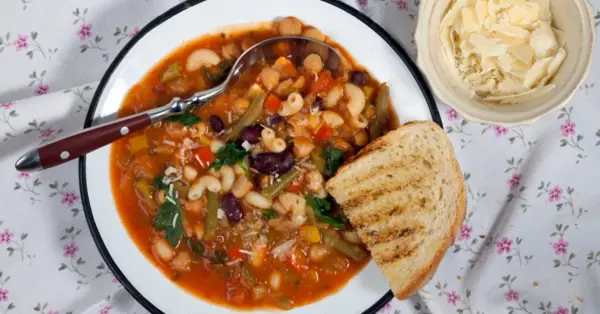 4. Minestrone Soup
Minestrone soup makes for a hearty, delicious dinner, especially in cold weather. It's also perfect for busy weeknights as it's made in the slow cooker and full of vegetables
Get this recipe on The Chunky Chef.
5. Beef Barley Soup
Beef barley soup is a hearty family favorite. It's perfect for weeknights and is the perfect way to warm up on chilly fall evenings.
Get this recipe on The Recipe Rebel.
6. Potato Soup
I like hot soups for the winter. A steaming bowl of potato soup is the ultimate comfort food. Everyone loves homemade potato soup. Potato soup can be served as a meal or as a snack.
Get this recipe on Gimme Some Oven.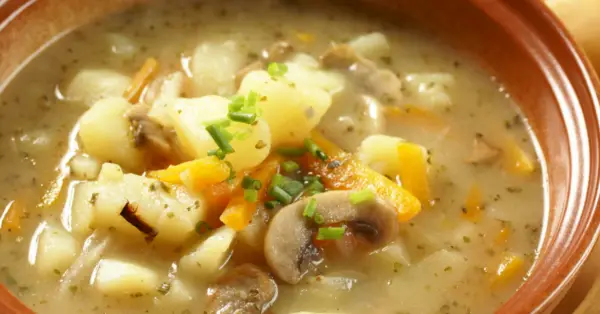 7. Chicken Enchilada Soup
This crockpot chicken enchilada soup tastes absolutely amazing. It has a ton of flavors that all fit together perfectly. It's easy to make and you can throw it in the crockpot and let it do all the work.
Get this recipe on Skinny Taste.
8. Chicken and Rice Soup
Chicken and Rice Soup is a favorite in our house. Not only is it packed full of flavor, but it's also so easy to make. A hearty and delicious chicken and rice soup that you can make in a crockpot.
Get this recipe on Well Plated.
9. Hamburger Soup
What could be better than enjoying a hot bowl of amazing and delicious soup after a long day? The answer is easy – it's having that hot bowl of delicious hamburger soup after a long day. That is precisely what you will get when you try out this great Hamburger Soup recipe.
Get this recipe on Budget Bytes.
10. Turkey Soup
This is a perfect recipe to make after Thanksgiving or Christmas. A perfect way to use your leftover turkey. Try this delicious turkey soup recipe.
Get this recipe on The Stay at Home Chef.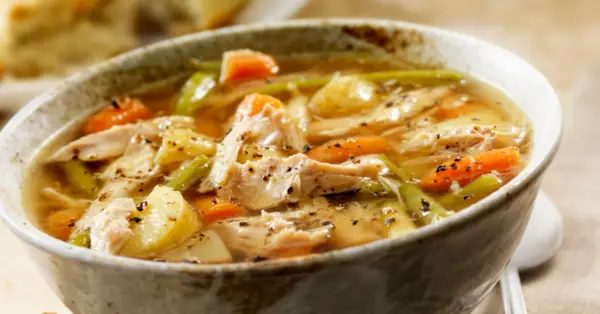 11. Ham and Bean Soup
Another great recipe to make after Thanksgiving or Christmas. Use up your leftover ham and make this tasty ham and bean soup.
Get this recipe on Five Heart Home.
12. Tortellini Soup
Tortellini Soup is a hearty, delicious soup that is easy to prepare. I love how easy it is to make and the flavor is always delicious.
Get this recipe on Lil Luna.
13. Tuscan Soup
Tuscan Soup is a hearty soup that will keep you warm all winter long. It's ready in a snap and makes a delicious weeknight meal.
Get this recipe on The Cookie Rookie.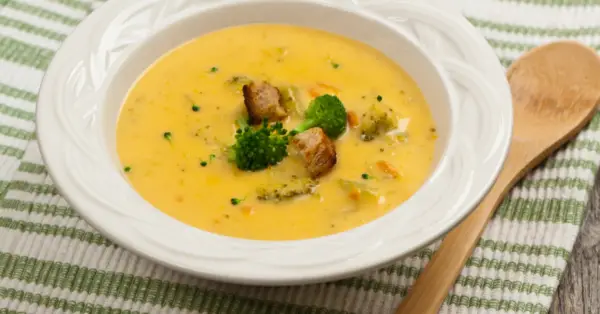 14. Broccoli Cheddar Soup
There's nothing better on a crisp late autumn night than a delicious bowl of homemade soup. And if it's quick, easy, and delicious, it just makes the experience that much more amazing! This easy crockpot soup recipe for Broccoli Cheese Soup is my family's all-time favorite.
Get this recipe on Life, Love, and Good Food.
15. Cheeseburger Soup
This Cheeseburger Soup is rich, creamy, and delicious. This fun spin on the classic cheeseburger will warm you up on a cold night.
Get this recipe on Life in the Lofthouse.
16. Shrimp and corn chowder
A delicious, simple recipe for shrimp soup recipe you need to try.
Get this recipe on Baked by Rachel.
17. Chicken Gnocchi Soup
There is nothing better than homemade soup. This recipe for chicken gnocchi soup is great and just happens to be a favorite of ours during the fall and winter months as well. Not only does it warm our tummies but give us that home-cooked taste we are all looking for on those chilly nights.
Get this recipe on Pinch of Yum.
18. Butternut Squash Soup
Delicious butternut squash recipe. Make a big batch, store it in the freezer in batches, and then reheat it as you need.
Get this recipe on Two Peas and Their Pod.
19. Vegetable Soup
Vegetable Soup – it's easy, reliable and a soup that will please everyone. Crock Pot Vegetable Soup might just be the best. It's also a great way to use up any veggies in your fridge (even ones that are about to turn). I love recipes that allow me to clean out the refrigerator and this one is at the top of my list.
Get this recipe on The Seasoned Mom.
20. Split Pea Soup
The last recipe on the list shows you how to make the best homemade split pea soup.
Get this recipe on Spend With Pennies.
Other Recipes
20 Quick And Easy Dinner Recipes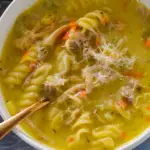 Print Recipe
20 Easy Crock Pot Soup Recipes
Delicious crock pot soup recipes.
Ingredients
Chicken

Egg Noodles

Chicken Stock

Onion
Instructions
Pick a soup recipe to make in your crock pot.

Gather all your ingredients,

Follow the recipes instructions.
Notes
Nutrition, serving size, and cooking time may vary depending upon which recipe you choose.