Are you looking for some new vegetable smoothie recipes? I know the struggle of finding a new recipe to try. That's why I've put together a list of some of the best smoothie recipes you can access anytime. It doesn't matter if you're a beginner or just starting out, these recipes are perfect for anyone. Hopefully, they inspire some great ideas of something different to try with your juicer, blender, or food processor.
Vegetable Smoothie Recipes – Green Smoothie Recipes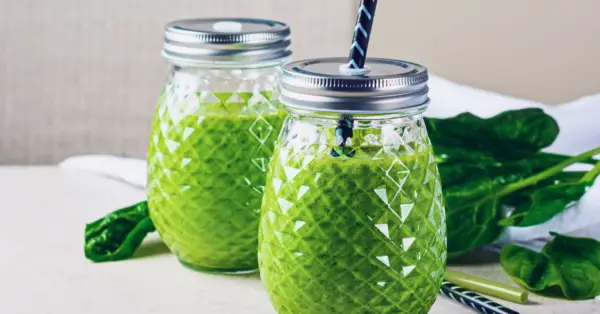 1. Spinach Smoothie
Need an easy, healthy breakfast to whip up in a hurry? This smoothie has all the right ingredients for a quick, tasty, and nutritious pick-me-up. Just grab a blender. Not only does it include spinach but also added fruits such as bananas, apples, and pineapples.
Get this recipe on Jessica Gavin.
2. Strawberry Spinach Smoothie
Strawberry spinach smoothie is a nourishing and delicious smoothie recipe. It can be used as breakfast or as a refreshing drink any time of the day.
Get this recipe on Well Plated.
3. Tropical Spinach Smoothie
Guaranteed to be a family favorite, this tropical smoothie makes for a summertime treat. Loaded with spinach and fruits like mango and pineapple. Easy breakfast recipe that can be made in no time.
Get this recipe on The Wholesome Dish.
4. Collard Green Smoothie
If you're looking to get more veggies in your day, but don't have much time, this green smoothie recipe is for you! It only takes a few minutes to make and will be sure to wow the taste buds of even the pickiest eaters.
Get this recipe on Live Eat Learn.
5. Kale Smoothie
My favorite way to start my morning is with this delicious kale smoothie. This smoothie is loaded with nutrients to help you stay full and satisfied. I love the zing that fresh ginger adds.
Get this recipe on Love and Lemons.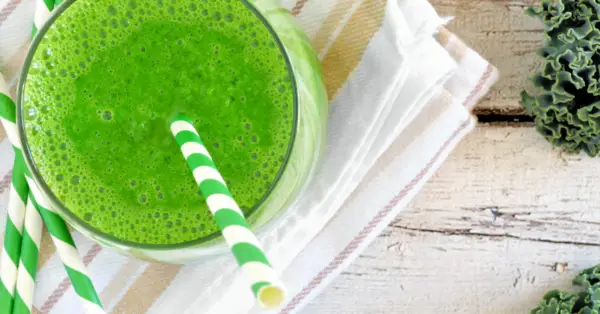 6. Kale Pineapple Smoothie
Filled with the flavors of pineapple and kale, this fruity smoothie is perfect for a vegan breakfast on the go. It's delicious, healthy, and easy to make.
Get this recipe on Ambitious Kitchen.
7. Chard Smoothie
Chard and banana are filling ingredients that give this smoothie a deliciously creamy and thick texture, perfect for summer when you've got fresh chard from the garden.  
Get this recipe on Gimme Some Oven.
8. Blueberry Avocado Smoothie
Do you love a super creamy smoothie? If so, this one's for you. Not only is it filled with blueberries and avocado, but it's also high in protein and healthy fats.
Get this recipe on Running With Spoons.
9. Spicy Chard and Pineapple Smoothie
If you love spicy food then you will enjoy this spicy chard and pineapple smoothie that is a healthy alternative to any meal or snack. Pineapple and chard come together for a wonderful tasting smoothie that will make you feel great.
Get this recipe on Serious Eats.
10. Avocado Smoothie
Do you want to start your day healthy with a smoothie? Do you like avocado? Do you want something thick and creamy with no added sugar? Then, this is the right recipe for you. Smoothies are very quick and easy to make, you can take them anywhere and they make a healthy snack or breakfast.
Get this recipe on Chocolate Covered Katie.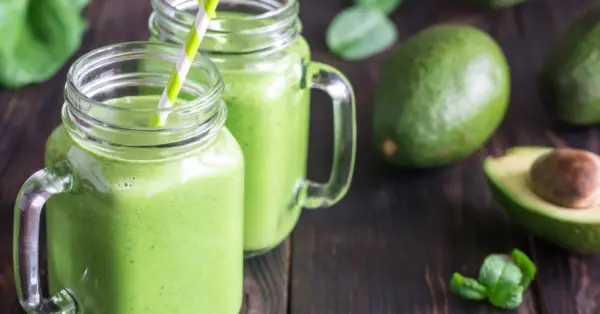 11. Cauliflower Smoothie
Have you ever considered using cauliflower in your next vegetable smoothie recipe? I hadn't either. But after trying this recipe I changed my mind. It tastes great in smoothies. Give it a try.
Get this recipe on Epicurious.
12. Celery Smoothie
Have you ever eaten a celery stick and wondered what else you could do with it? Luckily for you, I have a recipe for the best celery smoothie. So even if you aren't crazy about the taste of celery, perhaps this tasty smoothie will change your mind!
Get this recipe on A Couple Cooks.
13. Sweet Potato Mango Smoothie
When it comes to creating the ideal smoothie recipe, you need to think about what flavors go well together. Sweet potatoes and mangoes make for a delicious combination that is nutritious and delicious.
Get this recipe on Healthy Nibbles and Bits.
14. Tropical Carrot Smoothie
If you love the taste of tropical fruit then you are going to absolutely fall in love with this carrot smoothie recipe. The sweetness and slight tartness from the fruit combined with the carrots will leave you feeling full and satisfied.
Get this recipe on The Chunky Chef.
15. Carrot Smoothie
Looking for a way to sneak more veggies into your diet? Check out this Carrot Smoothie that tastes like carrot cake in a glass. Carrots add a rich and creamy texture to the recipe.
Get this recipe on Well Plated.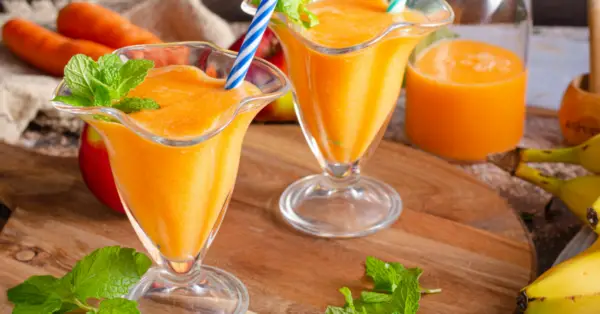 16. Squash Smoothie
Squash is a delicious ingredient to add to smoothies. This squash smoothie is a rich, creamy drink with lots of great nutrients that are perfect for breakfast or any time of day!
Get this recipe on Oh She Glows.
17. Beet Smoothie
This beet smoothie recipe is quick, easy, and delicious. It's perfect for those days where you are short on time and need a healthy meal. Try this tasty beet smoothie.
Get this recipe on Detoxinista.
18. Spinach Cucumber Smoothie
Spinach Cucumber Smoothie: This smoothie is light, refreshing, and tasty. It's perfect for hot summer days, picnics and can be served for breakfast or as a healthy snack. You can make the smoothie in advance and keep it in the fridge for a day or two. It tastes even better when chilled.
Get this recipe on Happy Foods Tube.
19. Zucchini Smoothie
Delicious smoothie recipe made with 7 simple ingredients. Only takes 5 minutes to make and is dairy-free, paleo, vegan, and gluten-free.
Get this recipe on Joy Food Sunshine.
20. Cinnamon Sweet Potato Smoothie
The last recipe on the list shows you how to make the best sweet potato smoothie with added cinnamon.
Get this recipe on A Sweet Pea Chef.
Other Recipes
15 Easy And Healthy Smoothie Drink Ideas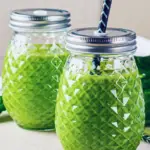 Print Recipe
20 Super Healthy Vegetable Smoothie Recipes
Delicious vegetable smoothie recipes.
Instructions
Gather all your ingredients.

Pick a smoothie recipe to make.

Follow the recipe instructions.

Make the recipe and enjoy.
Notes
Nutrition and serving size may vary depending upon which recipe you choose.