As fall approaches and things start to cool down, we start getting into the fall routine. The kids are starting to get back to school.
I plan a variety of snacks and desserts that I can make for the kids. The one fruit I usually have lots of this time of the year is apples. I like that I can make lots of different recipes with them.
Below I have gathered a list of the best apple recipes for you to try. From apple pie, apple crisp, bread, bars, cookies, candy apples, fritters, and many more options on the list. I have something for everyone. The family will enjoy these delicious apple recipes.
These Apple Recipes are:
Types of Apples
Fuji Apples: great for baking. Sweeter than the other apples. They tend to last longer. I like to make desserts with them.
McIntosh Apples: perfect for baking. They are tender and juicy.
Granny Smith Apples: more sour and tart. Can buy year-round.
Pink Lady Apples: a mixture between tart and sweet.
Golden Delicious Apples: very versatile. Great for cooking and baking.
Gala Apples: sweet and juicy.
Honey-Crisp Apples: they are sweet, I like to cook with them.
Easy Apple Dessert Recipes
Apple Pie Recipe
Looking for the best apple dessert recipe?
Try this delicious apple pie recipe. It has a great homemade apple filling with a tender flaky crust.
We love to top it with vanilla ice cream.
Get this recipe on Natasha's Kitchen.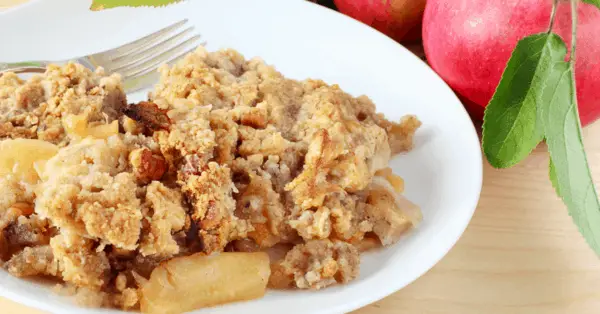 The Best Apple Crisp Recipe
I love apple crisp. It's one of the recipes that I always make for my family.
This recipe is very delicious with a great topping.
It tastes great with a scoop of ice cream.
Get this recipe on Belle Of The Kitchen.
Cinnamon Swirl Apple Fritter Bread
Try this apple fritter bread with cinnamon.
Heat up the kitchen with this amazing bread smell.
Warm. Comforting. Hearty.
This is a dessert or breakfast, with a dash of sweet but mostly cinnamon goodness.
Get this recipe on Home Is Where The Boat Is.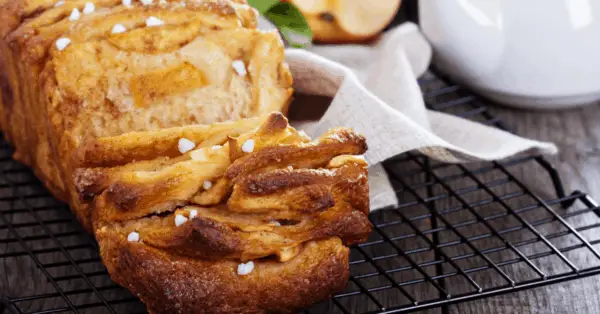 Cinnamon Apple Bread Recipe
This is another awesome cinnamon bread recipe. This is a popular recipe with a lot of great reviews.
So if you're looking for something easy to bake, then you need to try this Cinnamon Bread Recipe.
The aroma of fresh-baked bread surrounds your home and it's a beautiful golden color when it comes out of the oven.
Pairs well with coffee, tea, or hot chocolate. Makes a good breakfast or dessert when served warm.
Get this recipe on The Happier Homemaker.
Cinnamon Fried Apples
Cinnamon fried apple is a sweet and delicious recipe.
This easy recipe is great for after-school snacks.
Get this recipe on Taste Of Lizzy T.
The Best Apple Crisp Shortbread Bars
Crisp, crunchy, and full of apples and cinnamon, these apple crisp shortbread bars offer an easy way to get your fall baking fix.
Get this recipe on Life Straight Up.
Slow Cooker Homemade Apple Butter
Try this easy apple butter recipe that is made in the slow cooker.
Enjoy on toast, pancakes, crackers, and many more foods.
It keeps well in the refrigerator and can be frozen to use later.
Get this recipe on Scattered Thoughts Of A Crazy Mom.
Caramel Apple Pecan Cobbler
This is a delicious apple pecan cobbler with caramel.
It is loaded with apples and topped with a tasty caramel sauce.
Get this recipe on Great Grub Delicious Treats.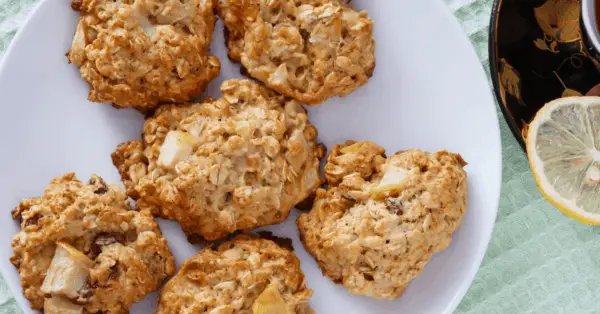 Apple Oatmeal Cookies
A simple recipe for soft and chewy apple oatmeal cookies.
These apple dessert recipes are a great way to use your apples and also have a lighter flavor than some other dense cookie recipes that are out there.
Get this recipe on Live Well Bake Often.
Apple Crisp Cookie Cups
This recipe for homemade mini apple crisp cookie cups is a perfect fall dessert.
With these apple crisp cookie cups, you can serve both the sweet and salty flavors of apple crisp in one delicious bite.
Get this recipe on Delish.
Cinnamon Sugar Apple Blondies
Cinnamon Sugar Apple Blondies are easy to make and super delicious!
Serve with a scoop of ice cream.
Get this recipe on Num's The Word.
The Easiest Candy Apple Recipe
If you're looking for a fun dessert to prepare for the upcoming holiday season, consider making homemade apple candy apples at home.
Get this recipe on Confessions of Parenting.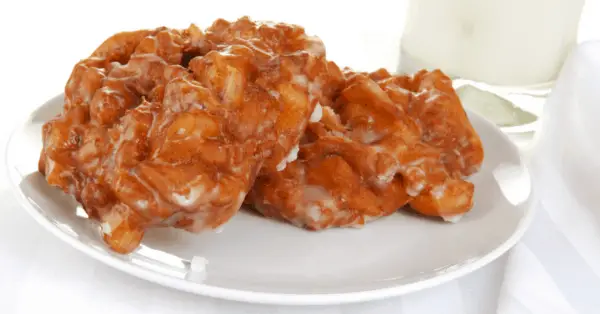 Apple Fritters
This recipe shows you how to make delicious homemade apple fritters.
My son goes crazy for this recipe, he loves fritters.
Get this recipe on Small Town Woman.
Easy Apple Crescent Rolls
Try this quick and easy recipe.
These apple crescent rolls are easy to make and very delicious.
Enjoy for breakfast or for a quick snack.
Get this recipe on Stylish Cravings.
Best Keto Cinnamon Apple Roll Ups
I had to add a keto recipe to the list.
Here is a delicious keto apple recipe. This recipe will take you through the steps needed to make these keto cinnamon sugar apple roll-ups.
They are quick and easy to make and low carb.
Get this recipe on KimSpired Diy.
Sugar Free Apple Muffins
Here is another healthy apple recipe.
Try these delicious sugar-free apple muffins with a delicious caramel topping.
Low carb, sugar-free, and gluten-free.
Get this recipe on Wholesome Yum.
Apple Cake In A Mug
Looking for an easy dessert recipe to satisfy your cravings?
This apple mug cake is the perfect treat to whip up in only a few minutes.
Get this recipe on Nothern Nester.
Healthy Cinnamon Apples
Try this apple recipe all made with healthy ingredients.
Get this delicious cinnamon apple recipe to the table in 15 minutes.
Get this recipe on Wholesome Recipe Box.
Old Fashioned Apple Dumplings
This recipe shows you how to make her grandmother's delicious apple dumplings.
Get this recipe on All Recipes.
Sara's Applesauce
The last recipe on the list shows you how to make the best homemade applesauce.
Get this recipe on All Recipes.
There is something about fall and the way it makes you want to settle down with hot drinks, books, and apple desserts.
Enjoy making these delicious apple desserts with your family.
Other Recipes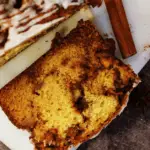 Print Recipe
Easy Apple Dessert Recipes
Instructions
Gather all your ingredients.

Follow the recipes instructions.

Make the recipe and enjoy.
Notes
Nutrition, serving size, and cooking time may vary depending upon which recipe you choose.