When we think of fall we think of pumpkins and apples, but we can't forget the delicious cocktails. I have gathered a list of drink recipes for you to try.
They are full of fall favorites like apples, pumpkins, and pears. Cozy up and enjoy these warm autumn fall cocktails.
Best Fall Cocktail Recipes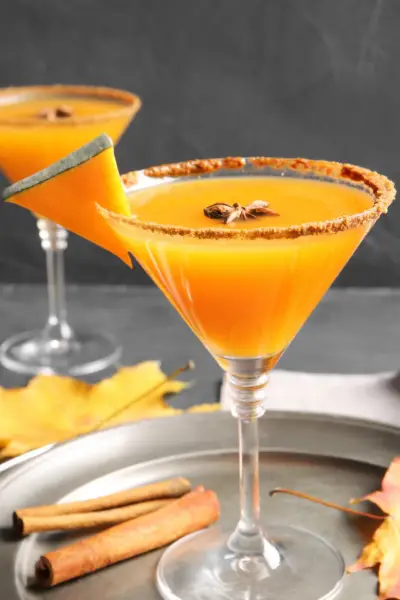 1. Pumpkin Pie Martini
The first recipe on the list shows you how to make the best pumpkin pie martini.
This recipe is like a delicious pumpkin pie rolled into an awesome drink bursting with flavors.
It has the best flavor and makes a perfect autumn drink to enjoy with your family and friends.
2. Apple Cider Mimosas
Apple Cider Mimosas are a fun and festive way to celebrate fall! These mimosas are a great recipe for when the fall weather is in full swing and you're craving a crisp, refreshing beverage.
This mimosa recipe is a simple classic! It's incredibly refreshing with the perfect balance of sweet, tangy, and fruity. Your guests will be begging you to make more!
The combination of apple cider with sparkling wine is incredibly refreshing. Not to mention the gorgeous look this cocktail adds to your glass when serving.
3. Pumpkin Spice White Russian
If you are looking for a delicious warm fall drink try this pumpkin spice white Russian.
It is easy to make with only a few simple ingredients needed. The recipe shows you how to make the best pumpkin spice cream which you will add to the drink.
The drink is smooth, cozy, flavorful, and perfect for fall.
4. Pumpkin Sangria
Whether you're planning a Thanksgiving meal, a Christmas party (or an early holiday season celebration), or just want to liven up your fall soirée, this pumpkin pie sangria offers a fun, fragrant twist on the traditional fall cocktail.
All you need is a handful of ingredients to make this pumpkin pie sangria. It's the best fall drink and will sure to be a hit at any party! In fact, you'll probably have to make two batches because it will go so fast. You will seriously love this recipe!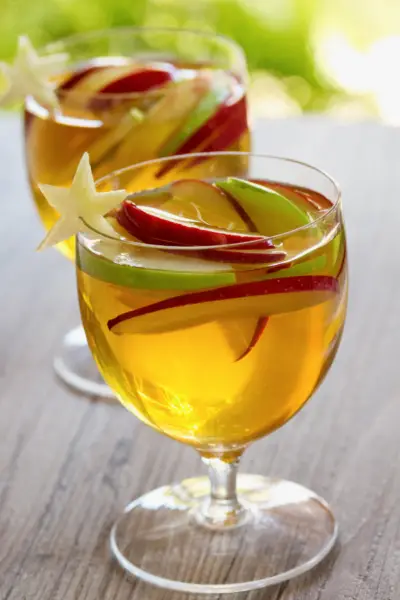 5. Apple Cider Sangria
Here is another great sangria recipe you should try. There are many different ways you can make a sangria. I like that this recipe focuses on using fall flavors to create this drink.
This recipe combines apples, pears, apple cider, other ingredients, and a touch of lemon to create an awesome flavor.
If you are looking for something new to serve at your fall get-togethers, try this Apple Cider Sangria. This is a great party drink because it looks so pretty when it's served in a large pitcher-style wine glass with the fruit in the bottom.
6. Apple Cider Margaritas
Halloween is just a few weeks away! Here's a great fall cocktail recipe that will be sure to impress your guests. Apple cider margaritas bring out the best of fall. Get ready to add this to the must-have drinks for your Halloween party.
This recipe combines tequila, apple cider, and other ingredients to create this delicious, warm, and comforting drink. It is then topped with rosemary and a smoking cinnamon stick, which smells great.
7. Hot Rum
This is a great drink to warm you up during the fall and winter months. This recipe is easy to make and you can whip up a quick drink for yourself or make a batch and enjoy it at your holiday party.
This recipe adds extra ingredients and spices than your traditional hot buttered rum recipe which gives it an extra kick that is not so bland.
8. Apple and Gin Cocktail
The next recipe I am sharing with you shows you how to make an easy apple and gin cocktail. This recipe combines just the right amount of ingredients to create an incredibly sweet, tart, and fruit-filled flavor.
This is a great cocktail recipe you need to try.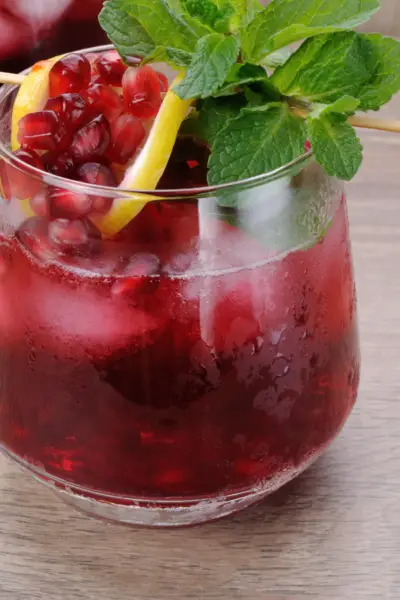 9. Pomegranate Rum Cocktail
If you love pomegranates as I do, then you will enjoy this rum cocktail. This pomegranate rum cocktail recipe is so easy and delicious you'll want to keep it on hand for the holidays or any other special occasion.
It is a beautiful, colorful, and easy-to-make cocktail. This is the perfect drink for Thanksgiving, Christmas, or any other holiday. It's also great for a New Years' Eve celebration.
10. Hot Buttered bourbon
Hot Buttered Bourbon is a fall cocktail recipe with amazing flavors. Ideal for chilly days, it'll keep you warm and happy. The added spices in this recipe add the final touches that bring everything together to create the best taste.
I like the fact that this drink is not heavy but rather smooth and creamy. There's nothing like a Hot Buttered Bourbon this time of year.
11. apple cider rum punch
Here is a perfect fall drink for you to try. It is easy to prepare and make. Only a few simple ingredients are needed.
The apple cider mixed with orange juice tastes great. Throw in some rum and a few other ingredients and you have a tasty rum punch full of fall flavors.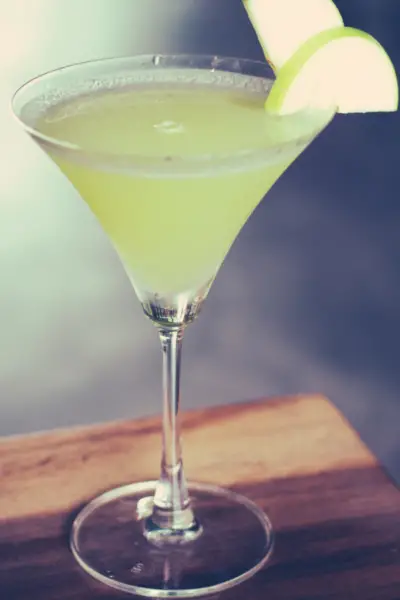 12. apple martini
If you're looking for a great sweet and sour drink, you need to try this apple martini. The apple liqueur, vodka, and a touch of lemon juice really add to the flavor of this drink. Get this drink to the table in 5 minutes.
13. spiced mulled wine
I like that mulled wine is easy to make and is very tasty. You don't need an expensive bottle of wine to make this recipe. You can use any red or white wine that you have.
This recipe takes you through the steps needed to make this delicious mull wine. It takes 5 minutes to prepare and 20 minutes of cooking time.
14. apple cider spritz
Here is another great cocktail recipe that uses apple cider. This one is for a hard cider spritz. The dry hard cider and apple cider go well together. You can add a touch of lemon juice or substitute for grapefruit or orange juice.
15. Cranberry Spice Cocktail
This is a great drink to make for yourself this fall. It is loaded with cranberries and other ingredients that fit together to enhance the flavor of the drink.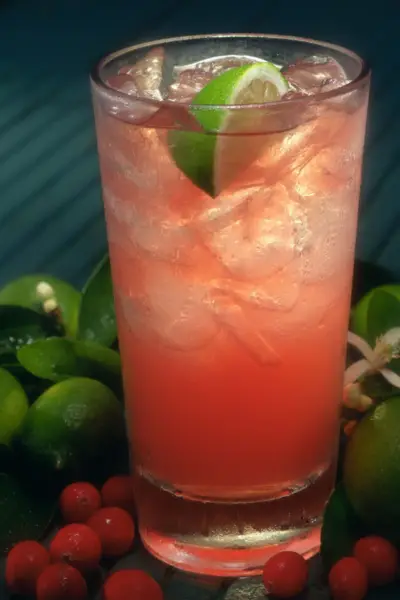 16. cranberry orange margarita
Here is another cranberry drink you should try. This is a great drink to make for your holiday gathering. These drinks would look perfect on your dinner table.
Cranberry orange margarita is fruit-filled, sweet, and refreshing. Make this delicious drink you won't be disappointed.
17. spiced hot toddy
Here is a good drink recipe to warm you up after a long chilly day. They put a spin on this classic toddy recipe by adding chilies and cinnamon. The touch of spicy flavor along with the warmth really enhances this drink.
18. candy corn martini
This is a great recipe to make for your Halloween party. A few simple ingredients are needed to make this recipe and of course lots of candy corn. This recipe will take longer than the other drinks to make as you need to let the vodka and candy corn infuse for a minimum of 6 hours.
19. caramel pear cider
Here is a cider drink recipe with a twist. It combines apple cider, pear cider, caramel syrup, and other ingredients to create the best flavors. This recipe uses the right amount of spices in this recipe. It is a great warm autumn fall drink.
20. pear cocktail
I love pears. I like eating them whole and including them in a variety of recipes I make. If you have overripe pears this is a great recipe to use them in. This recipe shows you how to make the best pear bourbon smash cocktail.
21. fall sangria
This recipe takes you through the steps needed to make the best sangria that is perfect for fall. This recipe does take longer to make as you need to refrigerate it for at least 4 hours. If you have time this is a great recipe to make.
22. pear martini
Here is another pear drink recipe for you to try. 5 ingredients are needed to whip up this drink in no time, which is full of pear flavors.
23. cranberry bourbon cocktail
Are you looking for a great bourbon cocktail? You are lucky as this recipe shows you how to make the best cranberry bourbon cocktail. It has a nice flavor that is not overpowering.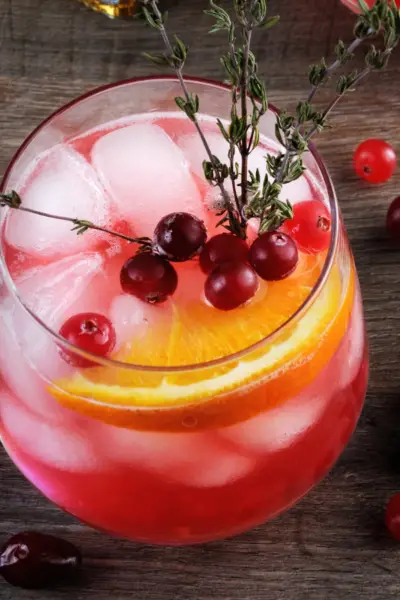 24. slow cooker sangria
Here is a recipe that you can make in your slow cooker. The slow cooking really brings out the flavors in this drink. It takes 2 hours of cooking time.
25. hot apple cider
I had to add this recipe to the list. It is non-alcoholic so it is something the whole family can enjoy on a chilly fall or winter day.
26. Cranberry Margarita
The last recipe on the list shows you how to make the best cranberry margarita.
Other Recipes