Can you freeze applesauce? Yes, you can. It is easy to make homemade applesauce and then freeze it to use later.
When you have leftover apples making applesauce is the perfect way to use them up. Applesauce makes a great snack the whole family can enjoy. You just need a saucepan and a few simple ingredients to make the best homemade applesauce.
Let's get started going through the steps on how to freeze applesauce.
How To Freeze Applesauce
Cook the applesauce. You will find a homemade apple sauce recipe below. I would skip adding the spices if you will be freezing the applesauce.
The spices tend to lose their flavors after freezing. It would be best to add the spices after you have thawed out your frozen applesauce and are ready to use.
Let the applesauce cool down before freezing.
To cool down faster transfer the applesauce to a bowl and cover and then place it in the refrigerator. Wait until the applesauce is completely cooled down.
After the sauce is cooled down then remove it from the refrigerator.
Transfer to a freezer-safe container or bags. If you are using bags make sure to remove all the air by pressing on them before storing them.
Seal the containers or bags and then place them in the freezer.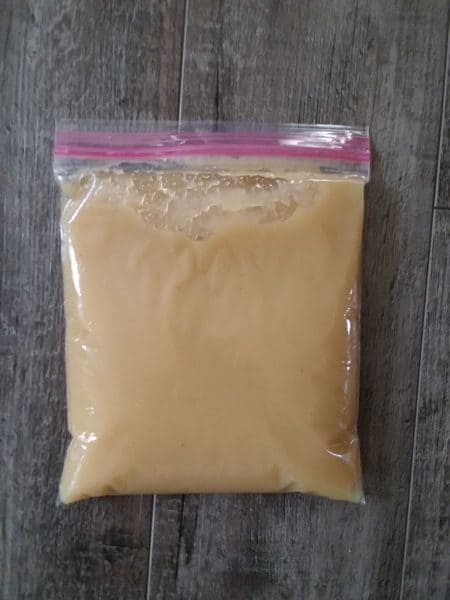 Can You Freeze Applesauce In Plastic Containers
Yes, you can freeze the applesauce in freezer-safe containers such as plastic storage containers or freezer bags.
How Long Can You Keep It In The Freezer
Applesauce will stay fresh in the freezer for 3-6 months.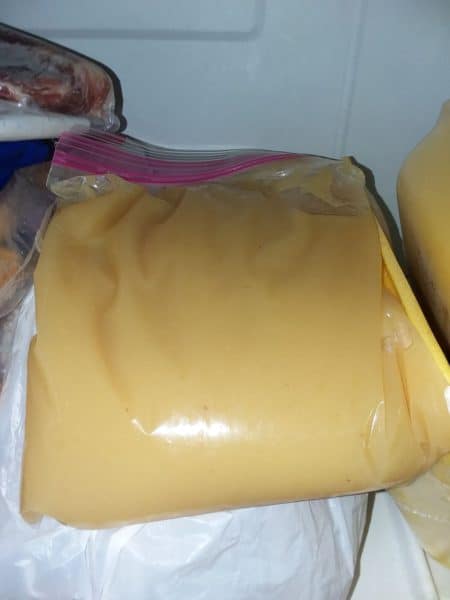 How To Thaw
Thaw in the refrigerator or place your bag or container in cold water and thaw that way. Once it is thawed then you can add additional spices like cinnamon or nutmeg. Stir around well and enjoy.
What Are The Best Apples To Use
Some of the best apples for making homemade apple sauce are Fuji's, Golden Delicious, McIntosh, and Granny Smith. They all work great for making applesauce.
How To Make Homemade Applesauce
You will need the following ingredients:
Apples- 5 apples are needed for this recipe.
Water- 2/3 cup of water.
Sugar- 3 teaspoons of white sugar.
Cinnamon- 1/2 teaspoon of cinnamon.
Directions:
The first step is to gather all the ingredients you need so that you have everything you need close by.
Then you will wash, peel, and core the apples.
Next, you will cut the apples into small cubes.
Now you will add the apples to a large pot. Then add water, sugar, and cinnamon. Stir around well.
Cover the pot and bring to a boil.
Once boiled reduce the heat and let it simmer for 15-25 minutes or until the apples are soft and tender.
Let the applesauce cool down and then mash with a fork or potato masher.
Add extra cinnamon, ginger, cloves, or nutmeg if you prefer.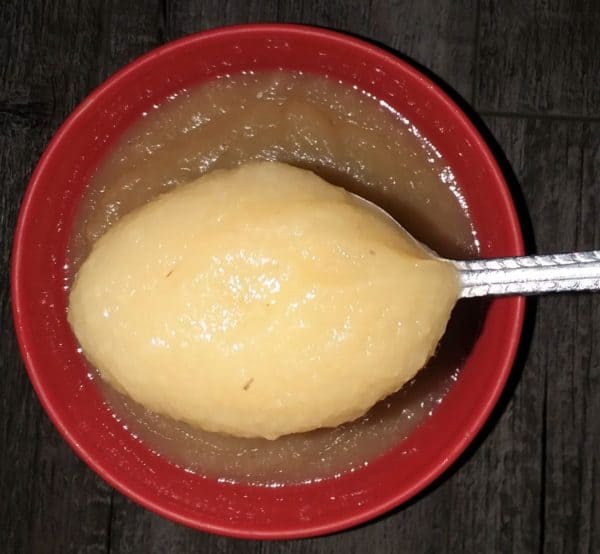 How To Store
Store applesauce in the refrigerator in a sealed container for 7-10 days. If you want to keep it longer it is best to freeze it to use later.
Tips
Adjust the sugar depending on how sweet you want your applesauce to be.
Use a potato masher or an immersion blender to get a smoother texture.
Use a mixture of types of apples
Add extra spices if you prefer.
Cut apples into chunks before cooking
Cool the applesauce before freezing
Don't add the spices if you will be freezing the applesauce as they tend to lose their flavors.
Can I Cook In An Instant Pot Or Slow Cooker
Yes, you can. Place the apples and the other ingredients into your instant pot or slow cooker.
In the instant pot, you will need to set to high pressure for 10 minutes.
For the slow cooker, you would cook on high for 3-4 hours.
What To Serve With Applesauce
Baking: Use applesauce in your baking recipes. you can substitute the butter with applesauce. I like to use applesauce when I make muffins or cakes.
Yogurt: Add it to your yogurt.
Smoothies: Add applesauce to your breakfast smoothies.
Pancakes: Use as a topping for your pancakes.
Ice-cream: Makes a tasty topping for your ice-cream.
Toast: Use applesauce as a spread for your toast.
Conclusion
Freezing applesauce is a great way to use leftover apples and have a easy snack for the family to enjoy later. Their are several creative ways that you can use frozen applesauce.
Other Recipes