I don't know about you, but I love a good pork chop. They're juicy, tender, and there's just something about them that makes you go back for another bite. But what are some good sides dishes that you can enjoy with pork chops?
I have come up with a list of 20 delicious side dishes that you can make to go along with your pork chop dinner. Included are vegetable sides, healthy side dishes, potato sides, summer sides, and many more tasty options.
Let's get started going through the list of recipes.
What To Serve With Pork Chops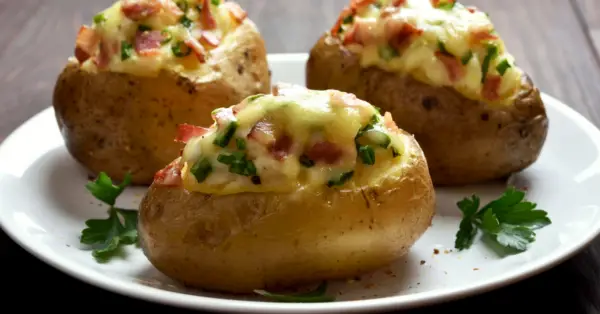 1. Cheesy Stuffed Baked Potatoes
The first recipe on the list shows you how to make the best cheesy stuffed baked potatoes. These cheesy stuffed baked potatoes are deliciously creamy, rich, and taste amazing. A great side dish to go along with pork chops.
Get this recipe on Food Network.
2. Roasted Brussels Sprouts
If you love lemon, brussels sprouts, and all things tasty and crispy, then you'll absolutely love this easy healthy side dish recipe. It also includes a delicious lemon parmesan dressing.
Get this recipe on Love and Lemons.
3. Sauteed Broccoli
If you're looking for a side dish to complement your pork chops, you need to try this easy sauteed broccoli recipe. This recipe takes less than 15 minutes to make and is made all in one pan.
Get this recipe on Go Money Mom.
4. Cinnamon Apples
The warm scent of cinnamon apples fills the house as they cook and the result is absolutely delicious. Fried apples have the right mix of sweet and savory, which makes them an ideal side dish for pork chops.
Get this recipe on Butter With A Side of Bread.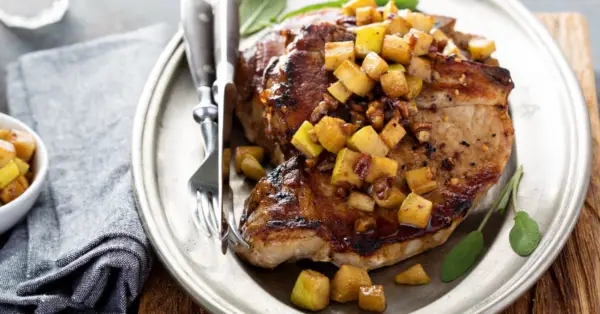 5. Cream Cheese Mashed Potatoes
These potatoes are rich and creamy, with a subtle garlic flavor. The taste of cream cheese makes them extra special. They are sure to be your favorite mashed potatoes recipe.
Get this recipe on The Salty Marshmallow.
6. Garlic Butter Rice
If you are looking for a quick and simple dish to accompany your delicious pork chop but are tired of the same old vegetables, try out this recipe for garlic butter rice.
Get this recipe on Cooking Classy.
7. Glazed Carrots
Warm, tender carrots simmered in brown sugar and butter make a delicious side dish. These tender carrots are not only good for holiday festivities, but they're also the perfect side dish for everyday meals.
Get this recipe on Dinner At The Zoo.
8. Roasted Vegetables
I love a good roasted side dish, and these vegetable side dishes for pork chops are my new favorite. They're bright, crispy-edged with just enough seasonings, full of delicious flavors.
Get this recipe on Yellow Bliss Road.
9. Homemade Biscuits
Easy homemade biscuits are so much better than store-bought. These buttery, melt-in-your-mouth biscuits are made with all butter, no shortening. The recipe is easy to follow with step-by-step instructions.
Get this recipe on Sugar Spun Run.
10. Garlic Parmesan Asparagus
Nothing beats the taste of a crispy, moist, flavorful pork chop. And when it's served with garlic parmesan asparagus it makes it so much better. Try this delicious asparagus recipe for dinner tonight.
Get this recipe on Cafe Delites.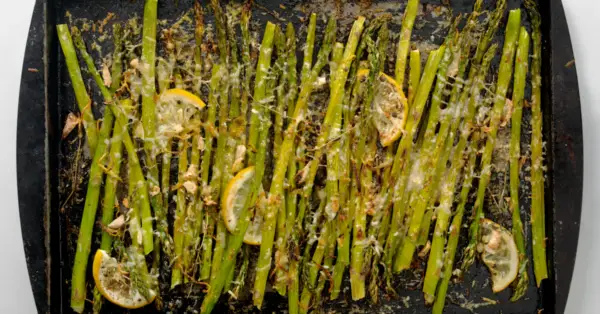 11. Macaroni and Cheese
This easy homemade mac and cheese recipe is rich, creamy, and loaded with lots of cheddar cheese. This makes an easy weeknight meal that requires just a few steps.
Get this recipe on Spend With Pennies.
12. Corn Salad
Enjoy your pork chops with fresh corn salad. It's super easy to make and tastes really good, too. It's a great summer salad. I love the crunchiness of the corn, bell pepper, and onion. If you have frozen corn, that will work just fine.
Get this recipe on Recipe Critic.
13. Scalloped Potatoes
The perfect comfort food, scalloped potatoes are delicious and easy to prepare. They're the ideal accompaniment to your favorite meal or a great family-friendly dinner on the weekend.
Get this recipe on Gimme Some Oven.
14. Garlic Butter Green Beans
If you're looking to make a delicious side dish that cooks up in under 15 minutes, this easy sautéed green bean recipe is for you! We make this one often because it's perfect for a weeknight dinner side dish.
Get this recipe on Inspired Taste.
15. Potato Salad
This easy recipe for potato salad is just what you're looking for. It's a side dish recipe that goes great with pork chops. It is creamy and super easy to make
Get this recipe on Foodie Crush.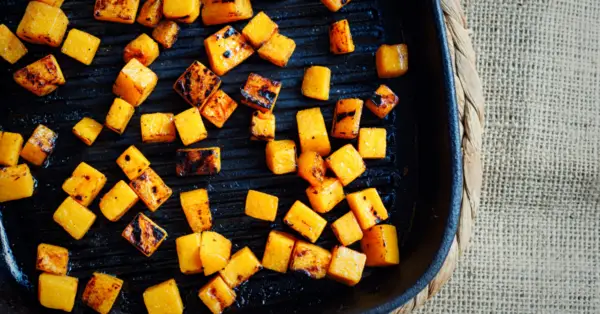 16. Roasted Squash
When you're craving something sweet and savory that's full of fall flavors, butternut squash is the way to go. Roasted to perfection, sweet butternut squash is an Autumn favorite and the perfect side for any meal.
Get this recipe on Creme De La Crumb.
17. Homemade Applesauce
If you are looking for an easy side dish to pair with your pork chops, I recommend that you top them with applesauce. The subtle sweetness of applesauce complements the mild taste of pork chops. Enjoy this easy dinner recipe tonight.
Get this recipe on The Pioneer Woman.
18. Baked Sweet Potato
Baked sweet potato is a delicious side dish that pairs well with many main dishes. This recipe is so easy to make. It's perfect for any night of the week.
Get this recipe on Skinnytaste.
19. Fried Cabbage
This simple recipe for fried cabbage is easy to make. The crunchy cabbage combined with perfect seasoning makes it fantastic as a side dish. This dish is extremely versatile and goes well with many different foods, but I particularly enjoy it with pork chops.
Get their recipe on The Stay at Home Chef.
20. Sauteed Mushrooms
The last recipe on the list shows you how to make the best-sauteed mushrooms. Sauteed mushrooms are crisp and delicious.
Get this recipe on All Recipes.
Other Recipes
24 Best Side Dishes For Salmon
22 Best Side Dishes For Prime Rib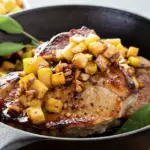 Print Recipe
20 Side Dishes For Pork Chops
Delicious side dishes to serve with pork chops.
Ingredients
Potatoes

Brussels Sprouts

Broccoli

Apples

Carrots
Instructions
Gather all your ingredients.

Pick a side dish to go along with your pork chops.

Follow the recipe instructions.

Make the recipe and enjoy.
Notes
Nutrition, serving size, and cooking time may vary depending upon which recipe you choose.