Grab your apron and get ready to amp up your meal preps with this collection of meal prep recipes. From breakfast to dinner, included are ideas for busy weekdays and great weekend meals. These meal prep recipes will help you get a head start on your busy schedule.
You can plan and make your meals ahead of time to have something handy to eat when you get home from work or school. I have got you covered with a list of the most filling meal prep recipes that are both tasty and versatile.
Tips For Meal Prepping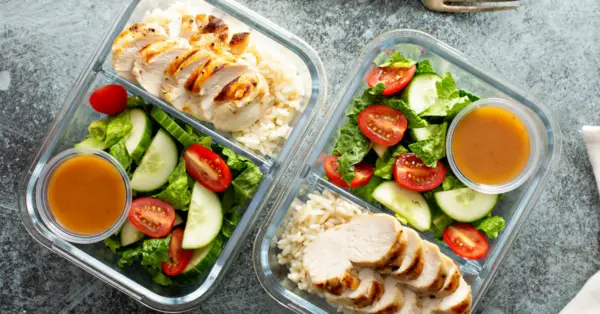 Find The Best Storage Containers
When I first started meal prepping I would just put them in any food containers, which is not always the best idea. My recommendation would be to invest in some good meal prep containers if you can. I like to find containers that are microwave safe. You will need to use the containers that best suit your needs. Whether that be freezer-safe, microwave-safe, or dishwasher-safe.
Plan Ahead
I find it helpful to schedule a day and time when you will do all your meal prepping. I usually will meal prep food for 3-4 days. If you're going to freeze the meals then you could make more. This will ensure things don't spoil.
Keep Things Simple
Don't overwhelm yourself and plan to make many different meals. Just stick to a couple of recipes to make at first when you are just starting out with meal prep.
What Meals Are Good For Meal Prep?
Chicken and Veggies
Sesame Chicken
Garlic Herb Chicken and Asparagus
Burrito Bowls
Hawaiian Chicken
Honey Lemon Chicken
Teriyaki Chicken
Chicken, Spinach, and Cauliflower Salad
Spicy Chicken With Rice
Shrimp Meal Prep
Shrimp Fried Rice
Garlic Ginger Shrimp With Quinoa
Honey Lemon Shrimp
Shrimp With Zucchini Noodles
Mason jar Salads
Chopped Chicken Salad
Mediterranean Salmon
Sesame Noodle Bowls
Chickpea Curry
Mason Jar Overnight Oats
Can You Meal Prep In The Fridge For A Week?
Food that you meal prep will usually last in the refrigerator for 3-5 days. If you want to keep the food longer you should freeze it.
Easy Meal Prep Recipes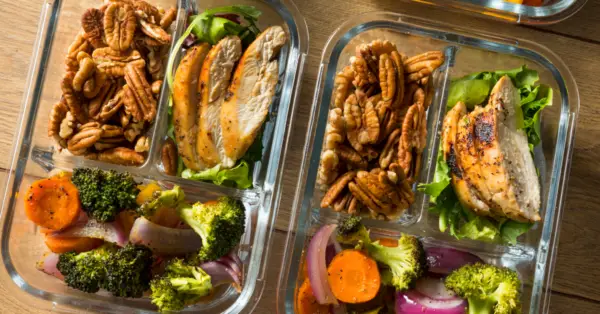 1. Healthy Chicken and Veggies
A healthy and easy recipe? Say no more! Whether your meal prepping your meals or simply looking to find a healthy and tasty dish to cook for dinner, this sheet pan chicken and veggies recipe is just the one for you. It's easy to prepare and is full of delicious flavors.
Get this recipe on Gimme Delicious.
2. Sesame Chicken Lunch Bowl
An easy meal prep recipe for dinner – chicken, and vegetables topped with the best homemade honey sesame sauce over rice, served with a quick stir-fried broccoli and snap peas.
Get this recipe on Sweet Peas and Saffron.
3. Garlic Herb Chicken and Asparagus
Busy weeknights call for quick and easy dinners! This Garlic Herb Chicken and Asparagus Meal Prep is so simple to make and can be done in less than 30 minutes. This recipe makes enough for four servings, so almost enough for the whole work-week.
Get this recipe on Get Inspired Everyday.
4. Burrito Bowls
Here is a great recipe for an easy burrito bowl that you can meal prep. This recipe takes about 30 minutes to put together. You will find all your favorite burrito toppings in this recipe.
Get this recipe on Budget Bytes.
5. Hawaiian Chicken
Try these delicious Hawaiian meal prep bowls. In the bowl, you will find chicken smothered with bbq sauce and then combined with peppers, pineapples, onions, and zucchini noodles. This recipe makes 6 servings.
Get this recipe on Life In The Loft House.
6. Honey Lemon Chicken
This Honey Lemon Chicken is a delicious, simple recipe that tastes amazing and works perfectly for meal prep! It's flavorful, easy to make, and goes with almost any side!
Get this recipe on Gimme Some Oven.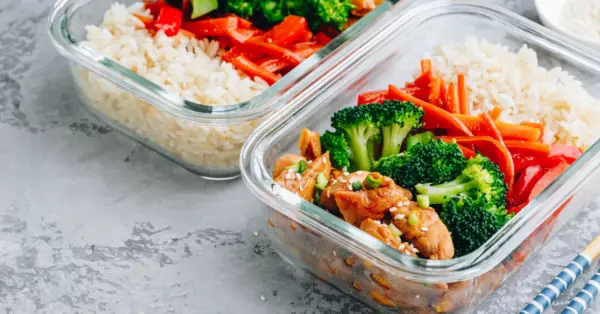 7. Teriyaki Chicken
These quick and easy teriyaki chicken meal prep bowls are perfect for a busy weeknight dinner, or you can stash them in the fridge to save for lunches. This recipe is ready in less than 30 minutes and is made with chicken combined with the best homemade teriyaki sauce, rice, and broccoli.
Get this recipe on Salt and Lavender.
8. Chicken, Spinach, and Cauliflower
Looking for a new salad recipe that's simple, cozy, and delicious? I have you covered with this delicious spinach salad recipe. The salad is loaded up with chicken, cauliflower, cranberries, and spinach.
Get this recipe on Eat Well 101.
9. Spicy Chicken With Rice
Here is a tasty recipe that you can make in the instant pot. This recipe is a little bit spicy. Chicken is combined with rice and beans combined with the best cilantro sauce. Make this recipe and then add to containers to eat during the week.
Get this recipe on Pinch of Yum.
10. Healthy Shrimp Meal Prep
This is a great meal option that is under 350 calories. Shrimp is combined with the best honey garlic sauce and then is topped over brown rice, and added lemon snap peas.
Get this recipe on A Sweet Pea Chef.
11. Shrimp Fried Rice
If you love shrimp-fried rice, you're going to love this recipe. This delicious dish comes together in under an hour and makes enough for a week's worth of effortless meals.
Get this recipe on Damn Delicious.
12. Garlic Ginger Shrimp With Quinoa
Whip up a dinner that's tasty, easy, and healthy with this garlic ginger Shrimp and Quinoa Meal Prep recipe. This seafood dish is packed with protein, making it the perfect way to help you feel full after a long day at work.
Get this recipe on Eat Well 101.
13. Honey Lemon Shrimp Veggies
Try this 15-minute honey lemon shrimp and veggies recipe. Honey and lemon make a wonderful combination in this simple yet delicious honey lemon shrimp dish.
Get this recipe on Fit Men Cook.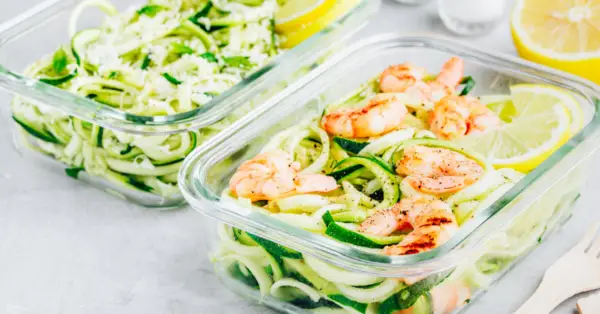 14. Meal Prep Shrimp With Zucchini Noodles
These lemon garlic shrimp are tender, flavorful, and cooked in less than 10 minutes! They are combined with zucchini noodles and tomatoes. This recipe is low carb, gluten-free, and paleo.
Get this recipe on Skinny Fitalicious.
15. Mason Jar Salads
I wasn't sure about making mason jar salads but after trying this recipe I am hooked. It is so easy to prepare your salads ahead of time to use later. They keep your salads nice and fresh until you are ready to eat them. This recipe shows you how to make the best mason jar salads.
Get this recipe on A Sweet Pea Chef.
16. Southwestern Chopped Chicken Salad
If you're looking for a new work lunch that's fast and easy, I have got you covered with this southwest chopped chicken salad. It's ready in 25 minutes and is loaded with hearty ingredients. Meal prep this salad ahead of time and then top with ranch dressing when ready to eat.
Get this recipe on Sweet Peas and Saffron.
17. Mediterranean Salmon
Salmon is seasoned and then cooked to perfection. It is topped with the best arugula mint pesto. Greek salad and couscous are used as sides to go along with the salmon.
Get this recipe on Fit Foodie Finds.
18. Sesame Noodle Bowls
This noodle bowl contains chicken, noodles, and vegetables all combined with the best creamy sesame sauce. It takes 15 minutes to make and tastes great.
Get this recipe on Pinch of Yum.
19. Chickpea Curry
This easy chickpea curry is the perfect 20-minute meal prep idea. Loaded with vegetables and bursting with flavor, this chickpea curry recipe is perfect for dinner. Plus it's gluten-free and you can make it vegan.
Get this recipe on Fox and Briar.
20. Mason Jar Overnight Oats
Oats are a great choice for busy mornings because they take only a few minutes to cook, and they will keep you full all morning long. Quickly make a week's worth of Mason Jar breakfasts with this easy recipe!
Get this recipe on Inquiring Chef.
Other Recipes
How To Meal Prep Fish- 20 Easy Fish And Seafood Recipes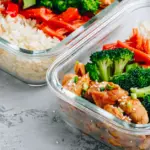 Print Recipe
20 Easy Meal Prep Ideas For Dinner
Delicious meal prep recipes.
Ingredients
Chicken

Broccoli

Rice

Teriyaki Sauce
Instructions
Gather all your ingredients.

Pick a meal prep recipe to make.

Follow the recipe instructions.

Make the recipe and enjoy!!
Notes
Nutrition, serving size, and cooking time may vary depending upon which recipe you choose.