Can you freeze baked potatoes? Yes, you can.
Baked potatoes are a good filling meal but they do take time to make. That is why freezing them is such a great method. When you have time you can make a bunch of baked potatoes to freeze to eat later.
Let's go through the steps needed to freeze baked potatoes.
How To Freeze Baked Potatoes
To freeze baked potatoes you will first need to cook the potatoes. The first thing you will need to do is preheat the oven to 400. While the oven is heating you can wash your potatoes and poke them with a fork or knife on all sides. Do not add any toppings to your potatoes or butter as you will be freezing them.
Then you will line a greased baking pan with parchment paper or foil. Put the potatoes onto the baking pan and place them in the oven. You will want to cook for 45-60 minutes or until the potatoes are soft.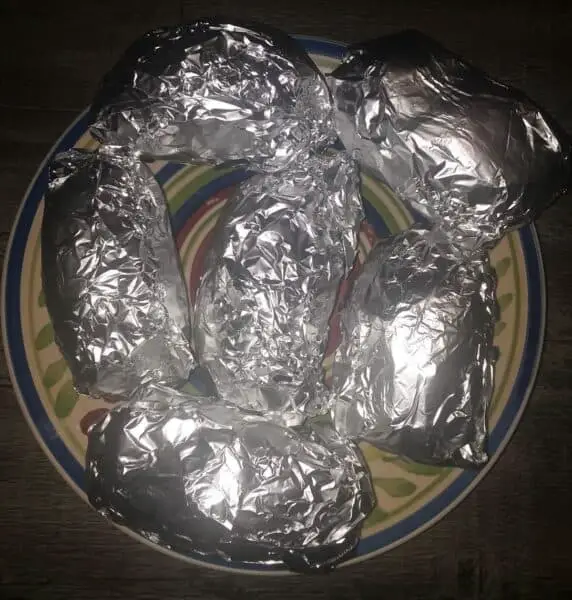 After the potatoes are done cooking let them cool down completely. Once they are cooled down you will wrap them individually with tin foil.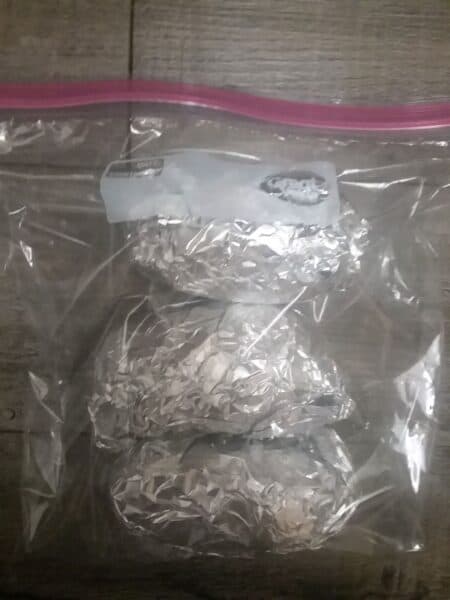 After they are wrapped then you can transfer them to freezer-safe bags. Remove any excess air from the bags. Label the bags with the name and date so that you know when you froze them.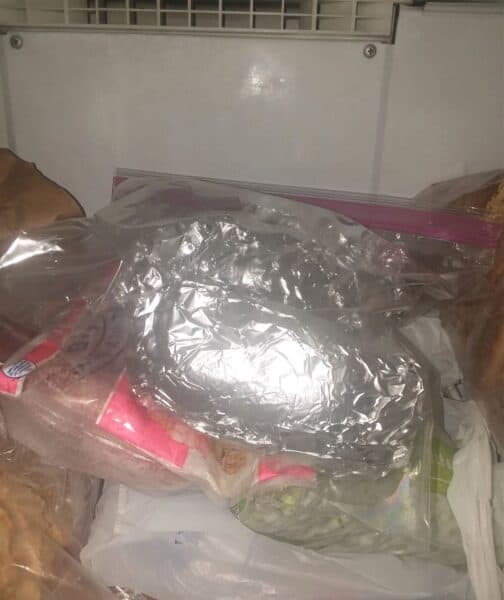 Baked potatoes can last in the freezer for 6-10 months.
How To Defrost
You can defrost baked potatoes in the refrigerator or the microwave.
To freeze in the fridge, remove the potatoes from the freezer. Place them on a dish or plate and defrost them in the fridge until they are thawed.
If you are in a hurry you can defrost in the microwave. Place the potatoes in a dish and use the defrost settings to thaw the potatoes.
Ways To Reheat Baked Potatoes
There are several ways you can reheat baked potatoes. You can use the oven, stovetop, air fryer, BBQ, or microwave.
Oven
This is my favorite way to reheat baked potatoes but it is time-consuming. To reheat line a greased baking pan with tin foil and place the potatoes on the baking pan. Reheat the potatoes at 350 for 15-20 minutes or until the potatoes are heated.
Microwave
To reheat in the microwave place the potatoes in a dish and microwave for 2-4 minutes or until heated. To prevent the potatoes from drying out it is recommended to cut them in half and cover them with a damp paper towel.
Air Fryer
You can also reheat the baked potatoes in the air fryer. Heat the potatoes at 350-400 for 3-5 minutes or until heated.
BBQ
Wrap the potatoes in foil and grill for 10-15 minutes. Flip them over halfway through the cooking time.
Stovetop
To reheat potatoes on the stovetop you will want to cut them in half first. Then you will heat a frying pan with oil and place the potatoes with the skin side down in the frying pan. You will then cover them with a lid and cook for 3-5 minutes. Then flip them over and cook for an additional 2-3 minutes or until fully heated.
Tips
Bake the potatoes plain. Wait until you are ready to reheat to add any toppings or butter.
Remove all the air from the freezer bags before freezing.
Frozen potatoes taste the best when eaten within a month.
Wrap the potatoes tightly with tin foil or plastic wrap.
Once the potatoes are thawed they should be eaten within 2 days.
Don't refreeze the potatoes if they have been frozen before.
Cooking time will depend on the size of the potatoes.
Conclusion
You can make baked potatoes ahead of time and freeze them to eat later. It is easy to freeze baked potatoes. You just need to cook them, let them cool, wrap them, and then freeze them for later. Defrosting is also easy by thawing in the fridge or the microwave. When you are ready to reheat you have several different options. You can reheat on the stove, in the oven, the grill, air fryer, or the microwave.
Other Articles
Can You Freeze Almond Milk– Can you freeze Almond Milk? That is a great question and yes you can freeze it. There are a couple of ways to freeze the milk. This article will show you the steps needed to freeze almond milk.
Can You Freeze Brussels Sprouts– If you have leftover brussels sprouts, freezing them is a great way to preserve their freshness. You can freeze them to enjoy later.
Can You Freeze Alfredo Sauce– Can you freeze alfredo sauce? Yes, you can. Alfredo sauce is a delicious white cream-based sauce that is made with butter, heavy cream, and parmesan cheese.
Can You Freeze Applesauce– When you have leftover apples making applesauce is the perfect way to use them up. Applesauce makes a great snack the whole family can enjoy. You just need a saucepan and a few simple ingredients to make the best homemade applesauce.
Can You Freeze Apples– There are 2 main ways to freeze apples which we will go through the steps in this article. You can freeze apples whole or cut them into slices. When you have a lot of leftover apples freezing them is the perfect way to store them for later.